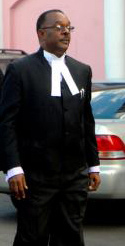 Freeport, Grand Bahama — We are monitoring the hoopla unfolding in a Grand Bahama court where a pastor was found guilty of raping a 9-year-old girl early this year. The case was set for sentencing yesterday, but the defendant's jackass lawyer failed to appear.
Such events are fast becoming the norm in courtroom theatrics here in The Bahamas, as lawyer for E. Randy Fraser did the same, and got sentencing stalled for a few more weeks.
A pastor, 59-year-old Albert Alexander Whyley, sat bewildered looking in the court as his attorney, Carlson JACKASS Shurland's whereabouts became unknown.
Now get this, Whyley was to be sentenced where after two months ago he was found guilty of raping a young schoolgirl. The incident occurred at his Grand Bahama home.

Justice Hartman Longley stalled sentencing as every attempt was made to contact JACKASS Shurland. Both office and cell lines of the attorney never picked up and so, the Crown sat in limbo while Justice was being hijacked.
While there was no DNA evidence presented in the case, a guilty verdict was handed down after a doctor's report confirmed the events took place.
The crime took place this year February 6th and with the hard work by the AG's Office, the trial was complete in less than a year.
Jackass Shurland failed to show up to court, Whyley refused to proceed without his attorney and therefore, Justice Longley penned sentencing for November 22nd, 2011.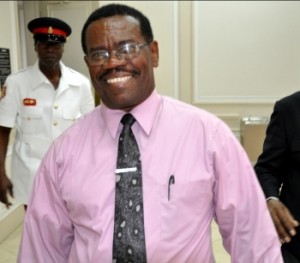 Readers should interestingly note this is not the first conviction of its kind over the head of Pastor Whyley. According to court records, Whyley was convicted in 1993 to serve a 14-year sentence for having unlawful sexual intercourse with a minor; however, he successfully had the Court of Appeals reduce his sentence to five-year imprisonment.
There is something terribly wrong with justice in The Bahamas, for when CHILDREN are raped, assaulted, massacred and killed in this country, the damn system refuse to holler and exercise its powers.
To this, we at Bahamas Press are always reminded of the words of Derek Walcott, a prolific writer of the Diaspora, who penned the words, "Justice is an invention of the devil!"

Pastor Whyley rapes a child for a second time and cannot be sentenced because his Jackass lawyer fails to appear in court. Bishop E. Randy Fraser cannot find out his fate in a child sex case after being accused of the crime since 2005. Fraser's matter proves that for five years a magistrate delayed justice for that victim over and repeatedly. We are sick of it!
Jackass Shurland was also the attorney for convicted pedophile, Andre Birbal.
NO DAMN SHAME!