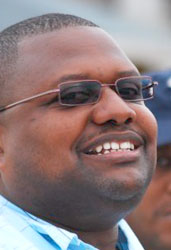 Nassau, Bahamas — The DNA has now joined Charles Maynard and the FNM in promoting the politically deceptive "Volunteer Bahamas Program" in order to collect information from residents in order to recruit new members.
We cry 'Dutty' Shame on them both to use the innocence for their 'VICKED' POLITICAL SCHEMES! BP warned residents of the use of their names, numbers and addresses by a chief FNM goon for election information gathering. Thus far the programme has backfired. Less than 100 residents have registered for the programme since it was launched.
The decision to do such proves PROVES Bahamas Press' six month long view that the DNA and the FNM are one in the same and are working together against the Bahamian people. A vote for the DNA is a VOTE for the FNM! They are one in the same!
Bahamas Press asks the DNA – How much they are paying people to sign up for the FNM Volunteer Programme? We also want to know who gave them the money to coax these people to sign up? WAS IT AN FNM?
Sources tell us are presently high-level meetings between TOP FNM and DNA OFFICIALS! We can confirm the last meeting took place behind the IRON gates! GO FIGURE!
Read below the DNA's circular to members of the media and the wider public today…

Hello Everyone,

We just want to take this time to thank you for your continued support in becoming agents of CHANGE! As we move forward together to make the Bahamas a better place.

Please we urge you if you haven't done so as yet to go out and register to vote and encourage others to do the same. The only way we can CHANGE our present circumstances is to become the CHANGE you want to see.

" In order to succeed our desire for success, should be greater than your fear of failure."

Please continue to follow us to be abreast as to the party's events on Facebook; DNA Young Democrats and the party holistically; mydnaparty.org or The Democratic National Alliance.

Also please become apart of the " Volunteer Bahamas Program", encourage others to become apart of it as well. Applications are at our National Headquarters, Prince Charles or at The Bamboo Town Office. Those that may need the form emailed to please make note of that request via email.

Once again THANK YOU for supporting The Young Democrats & The Democratic National Alliance.