Minimum Wage Government Employees gets $800 annual increase in salary…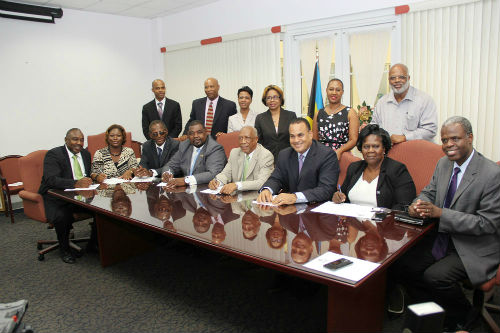 NASSAU, The Bahamas – The Government of the Commonwealth of The Bahamas and the Bahamas Public Service Union entered into an industrial agreement at an estimated $200 million over a period of five years.
The agreement, which was signed Thursday, July 17, 2014 impacts the lives of approximately 20,000 Public Servants; the benefits ranging from a minimum wage increase to hazardous protection. Benefits are set to take effect, beginning August 2014.
Minister of State for Finance the Hon Michael Halkitis thanked the executives of the BPSU for their level of patience and kind consideration for arriving at an "amicable" industrial agreement, during the Signing Agreement Ceremony at the Ministry of the Public Service. He also applauded the work of the Government's negotiating team led by veteran trade unionist Keith Archer.
Also present were Financial Secretary John Rolle, Elizabeth Keju, Permanent Secretary, Ministry of the Public Service, BPSU President John Pinder, and representatives from both sides."As we all know, these are very challenging fiscal times and we have asked all public sector unions to work along with us as we manoeuver through this very rough financial time," Mr. Halkitis said.
He acknowledged that the BPSU has demonstrated its commitment to that invitation by signing off on "this very important" agreement."I should like to take this opportunity to express the Government's sincere appreciation to the hard working 20,000 plus public servants that give outstanding service each and every day do the Commonwealth of The Bahamas," Mr. Halkitis said.
He added, "While no side in any negotiations achieves everything it sets out to do, we are all grateful for the level of cooperation that has resulted in this document that both sides can live with. Again, congratulations to both parties on a job well done," he said.
The Industrial Agreement calls for the first benefits to be paid this year – an annual minimum wage increase by $800; fixed monthly hazard pay and risk allowance; increased pension benefits; mandates that performance appraisals be conducted by the end of each quarter of the calendar year; open salary scales to allow for double increments in the form of a lump sum payment.
In 2016, under a new budget year, there will be a general increase for the entire public service and all will receive a double increment as an increase that will be added to their base salary, according to the agreement.