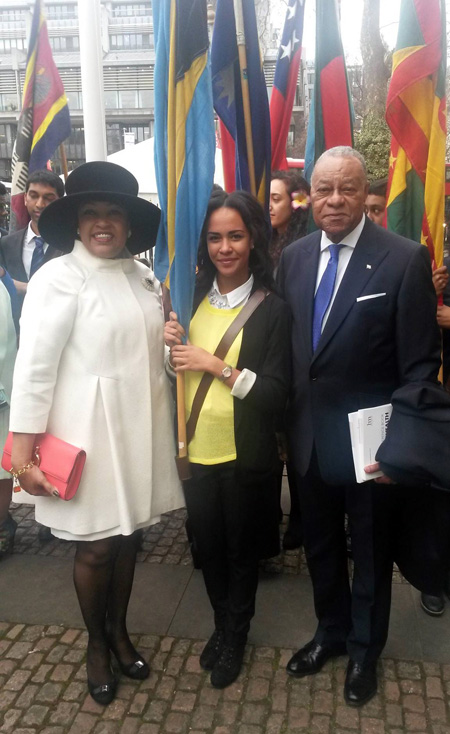 Bahamas ‬High Commissioner Participates in‪ Commonwealth‬ Day Observance at Westminster Abbey, London
H.E. Eldred Bethel, High Commissioner, participated in the annual Observance for Commonwealth Day at Westminster Abbey in London on Monday 9 March 2015.
This year's observance was held in the presence of the Head of the Commonwealth, Her Majesty the Queen, and His Royal Highness The Duke of Edinburgh. Also in attendance at Monday's Observance were HRH The Prince of Wales; HRH The Duchess of Cornwall; and HRHs The Duke and Duchess of Cambridge.
Speakers at Monday's event included The Hon. Dr. Shirin Sharmin Chaudhury, the first female Speaker of the Parliament in Bangladesh and Chairperson of the Commonwealth Parliamentary Association; Indian poet Sharanya Manivannan; Queen's Young Leader PJ Cole from Sierra Leone; Barkha Mossae, born in Mauritius and an advocate for the sustainable development of small island states; children's rights activist Kailash Satyarthi; and Kamalesh Sharma, Secretary-General of the Commonwealth.
This year's Commonwealth theme 'A Young Commonwealth,' recognises the capacity, contribution and potential of young people, who play a vital role at the heart of sustainable development and democracy.
As part of the Commonwealth Day Observance, the procession of Commonwealth flags was moved through the Abbey. The High Commission in conjunction with the Royal Commonwealth Society identified Ms. Adele Hutchinson, a young person of outstanding achievement to carry The Bahamas' flag at this year's Observance.