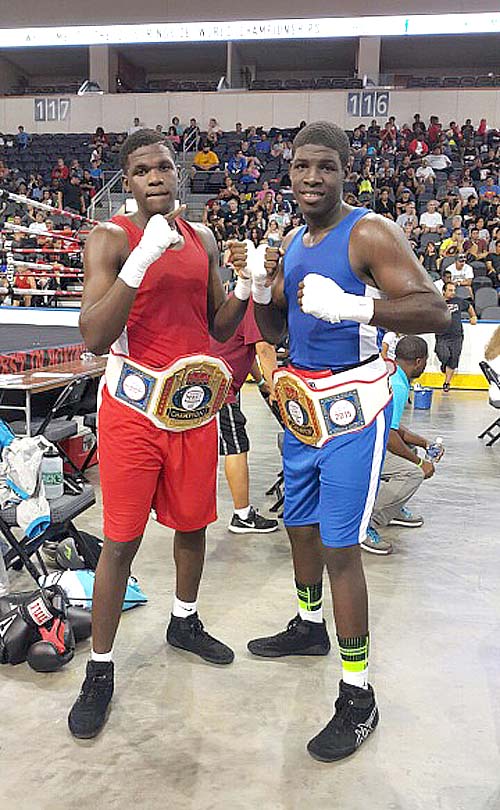 Strikers Boxing Club participated in the 15th Annual Ringside World Championship Boxing Tournament last week from August 3-8, which took place in Kansas City, MO. This event is the largest boxing tournament in the world with participants of over 1600 boxers and 550 coaches from around the globe.
Ronn Rodgers, Head coach of Strikers Boxing Club took 17 year old twin brothers Davon Hamilton (super heavyweight 201lbs +) and Davan Hamilton (Heavyweight 179-201 lbs) to this prestigious boxing event.
After the 7am weigh in, the twins were matched up with their prospective opponents who had more fighting experience than the twins.
Super heavyweight Davon Hamilton was up first. His opponent was 6'1, 320 lbs Briston Ring from Wyoming. Davon stopped his opponent with a right hook to the body in the 3rd round, winning the fight via TKO (Technical Knock Out). This victory moved him up ino the finals.
Davan Hamilton was up next. His opponent was Angel Santander standing at 5'10, weighing 200 lbs from the state of Kansas. Angel Santander won his previous fight the day before by Knock Out. Coach Rodgers and Davan were able to view this fight and quickly came up with a game plan on how to defeat Santander in the championship fight. On the night of the fight, Davan carried out the game plan perfectly which gave him the victory in the 3 round battle, winning by unanimous decision. Making him the 2015 Ringside Heavyweight World Champion.
Davon's championship fight followed shortly after his brother's victory.
Davon was able to capitalize on this momentum and defeat his opponent Troy McLemore from the state of Kentucky by knocking him out in the 1st round. Making him the 2015 Ringside Super heavyweight World Champion.
After fighting their way to the finals, the Twins Towers came away with the victory in their respective weight classes, and are now the first Bahamian Amateur World Champions.