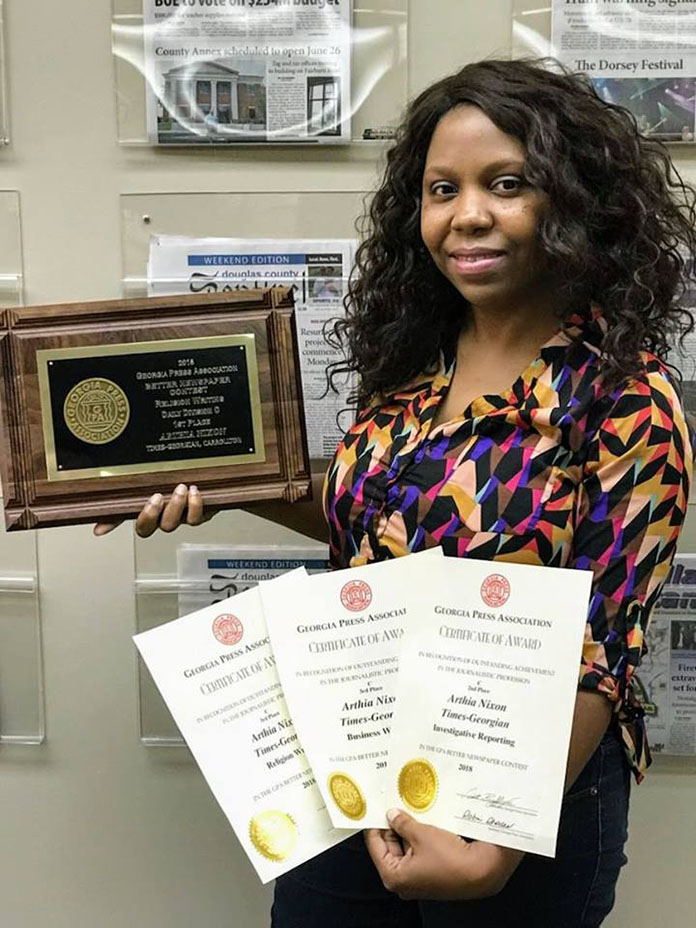 Atlanta, Georgia… Arthia Nixon was the only staff member of the Newspapers of West Georgia, which includes the Times-Georgian, Villa Rican and Douglas County Sentinal, to win multiple awards in this year's Georgia Press Association Better Newspaper Contest.
Nixon, who began her media career 18 years ago in her native Bahamas, won both first place and third place awards for Religious Writing, standing out with her wide range of topics, including a piece on church no longer being a safe haven due to mass shootings in the United States.
For her second place win in Investigative Journalism, judges said she proved why it was important to attend local government work session with her series on the Carrollton Fire Department. As a result of her series, the public went to bat for their "underpaid and overworked" firemen, and the department was given a full audit.
She was also commended for her depth and diverse topics which earned her third place overall in Business Reporting.
Six other staff members each one a single award.
"I think I was more gracious for the feedback than I was to receive the actual awards because it helped me understand why I was selected out of the thousands of other journalists in the state," said Nixon. "It was a really tough year, with illness and personal struggles but my former publisher Marvin Enderle, and editors Bruce Browning, Ron Daniel and Ken Denney were beyond supportive in allowing me to pursue some of the most challenging print and broadcast stories of my career. The community has been tremendous, especially the local leadership and the Carroll County NAACP. As a political, investigative and business reporter, I got to accomplish many goals and interview some amazing people. My time with the Newspapers of West Georgia has truly been the most unforgettable part of my journalism journey and I am looking forward to the next chapter."
Nixon is currently managing KidNewsMaker, an award-winning publication started by her daughter, Alejandra at age 11. She also oversees her daughter's blossoming acting career.
"I'm not even 35 so I'm not retiring just yet," she said. "I'm being a mom first, but I also just signed on for two projects I am immensely passionate about which allow me to continue my first loves – my Caribbean heritage and media. I am simply honored and proud to know that from Eleuthera, an island of 10,000 residents, this island gal is proud to be representing at this level, to show that we are excelling in more than just entertainment and sports. So bup bup to that – and leave the bup bup, Caribbean people will understand that!"
in 2017, Nixon won three GPA awards including one for Local News. She is the daughter of Arthur Nixon and Evangeline Cartwright of Eleuthera, Bahamas.