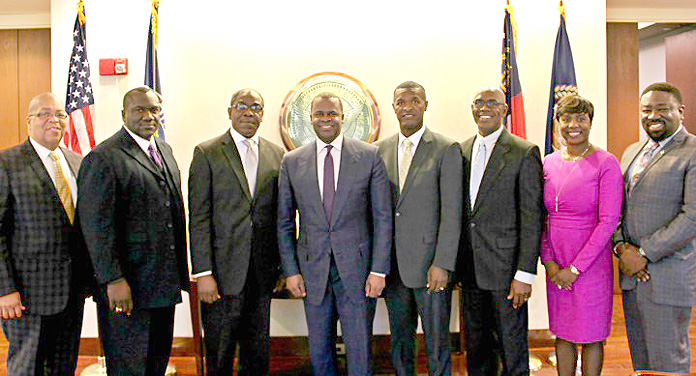 ATLANTA, Georgia — With the high rate of crime currently a major area of concern in The Bahamas, during a courtesy call on Atlanta Mayor Kaseem Reed on Tuesday, March 22, 2016, a delegation of religious leaders from Nassau expressed an interest in learning more about what the City of Atlanta does in regard to youth programs in order to provide at-risk youth tools to thrive and not turn to crime.
Included in the delegation are Rev, Ranford Patterson, Pastor of A.M.E. Zion and President of the Bahamas Christian Council; Rev. Delton Fernander, Pastor of New Destiny Baptist Church; Father James Palacious (Anglican); Pastor Deanza Cunningham (Non-Denominational); and Pastor Dale Moss, Church of God of Prophesy.
Mayor Reed discussed the different initiatives he has undertaken as Mayor of the City of Atlanta to support youth that have resulted in teen crime being down 25% and high school graduation increasing by 15% since 2010.
He stressed that the faith community was particularly well positioned to take an active role in supporting youth initiatives.
The Atlanta Mayor also pointed out that not all religious institutions are equipped to undertake the types of programs he mentioned, so it was important to select churches that have a good track record in implementing such programs as well as the internal resources to do so.
He said he would be happy to pursue the sharing of best practices with The Bahamas moving forward.
The two-day visit to Atlanta by the Bahamian religious leaders is an offshoot of an official visit to The Bahamas last August by Mayor Reed at the invitation of the Hon. Fred Mitchell, Minister of Foreign Affairs and Immigration.
They arrived in Atlanta Monday night and following their courtesy call on Mayor Reed Tuesday morning, that afternoon they paid a courtesy call on Dr. Barbara King at her Hillside Chapel & Truth Centre on Cascade Road, S.W
Wednesday morning they paid a courtesy call on Bahamas Consul General to Atlanta Randy Rolle at the Bahamas Consulate, 2970 Clairmont Road, following which they were hosted to lunch by the Consul General.
Wednesday afternoon they visited with Rev. Raphael Warnock at historic Ebenezer Baptist Church and later attended an unveiling ceremony and reception for Mrs. Xernona Clayton, Founder, President and CEO of the Trumpet Awards Foundation, Inc.
The delegation was scheduled to return to The Bahamas on Thursday.