A BP NEWS NEWS ALERT – FAA CITES SAFTY CONCERNS

Marsh Harbour, Abaco – International flights into the Marsh Harbour Airport have been suspended by the Federal Aviation Administration [FAA] for the past three weeks now and the Bahamian media has reported not 'a-lick' of the news.
BP has learned all international flights have been suspended at the airport following discovery that the facility has no functioning emergency equipment.
Two months back BP reported how the bathroom was in a deplorable condition being out of order for weeks, suggesting that if a passenger wanted to use it they would have to find the nearest bush.
How could a government be so neglectful in seeing the need to upgrade the facility, which is the gateway for hundreds of winter residents who are major players of the tourism product on that island?
During an address in Abaco in July this year, Chairman of the PLP, Bradley Roberts hinted of the pending stop of international flight to the hub as he outlined how plans to build a new terminal in Abaco was STOPPED AND CANCELED by the Ingraham administration.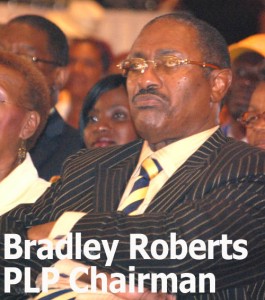 "Glenys Hanna-Martin, the former Minister of Transport, led the charge for a new modern International Terminal Building and Control Tower which were designed by an Architect Firm that specializes in designing Aerodromes. I approved a long list of Construction Companies to bid on the construction. This was stopped and cancelled by Hubert Ingraham who decided that Abaco's most urgent need was an Administration Building rather that a badly long overdue Terminal Building and Control Tower," Roberts said.
"Abaco I am surprised that you continue to embrace this man [Hubert Ingraham] who makes decisions for Abaco without consultation and some here in Abaco would still say that Hubert is simply the best. It's absolutely incredible and I am obliged to remind you that where there is no vision, the people perish."
Bahamas Press has learned the suspension by the FAA has created major problems for scores of passengers headed to the island many of who sought to enjoy vacation during the summer months.
The closed flights to the community represents an absolute neglect by the Ingraham Government and is a reflection of Ingraham naked abandonment to the people of Abaco which he represents in the Parliament.
This is the second time the FAA has suspended international flights coming into a local airport terminal in the Bahamas. In 2008, again under Ingraham's WATCH, the FAA closed international flights at another airport in the Bahamas.