Almost $100,000k invested in Limitless Summer Youth Programs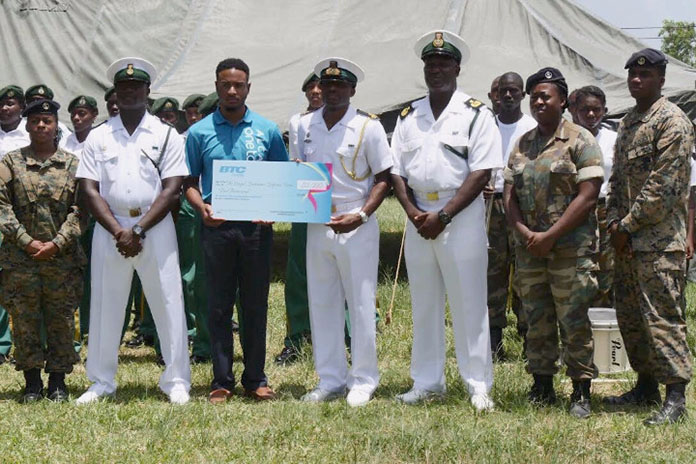 Nassau, The Bahamas – The Bahamas Telecommunications Company (BTC) made a $5,000 contribution to The Royal Bahamas Defence Force Ranger's Summer Camp Program. The holistic camp which caters to students ranging from ages 12-16, covers a variety of disciplines and life skills training.
BTC's Interim CEO Dexter Cartwright said, "This investment truly embodies our efforts to build a better Bahamas.
This year we introduced our "limitless summer" campaign, providing great promotions and a number of community investments. For the entire summer, we've supported a variety of programs all across the country to keep our young ones active, engaged and safe."
Camp Director Lieutenant Delvonne Duncombe noted that these investments make a huge difference in the life of country's youth. He noted, "BTC understands the importance of youth development and their partnership with us is much welcomed. We are running four camps which provide advanced training for the senior officers in the program. The camp equips them with additional leadership tools. The campers also participate in intermediate Defence Force subject matter training inclusive of maritime and military subjects including navigation seaman ship, camp craft. The campers are between ages 12-16."
Lieutenant Duncombe spearheaded the program for the last eight years. The facility, located off Gladstone Road is the backdrop for all of their routine activities. This structure has been in existence for the past two years. "The idea was to place our campers in a controlled setting where they would be taught all of the disciplines in the program while learning what is expected of a Defence Force Officer," Duncombe continued.
The trainees have a rigorous daily schedule, beginning with fitness at 5am, inspections, educational classes, and team building exercises and sports. BTC has invested almost $100,000 in numerous summer programs across the country.