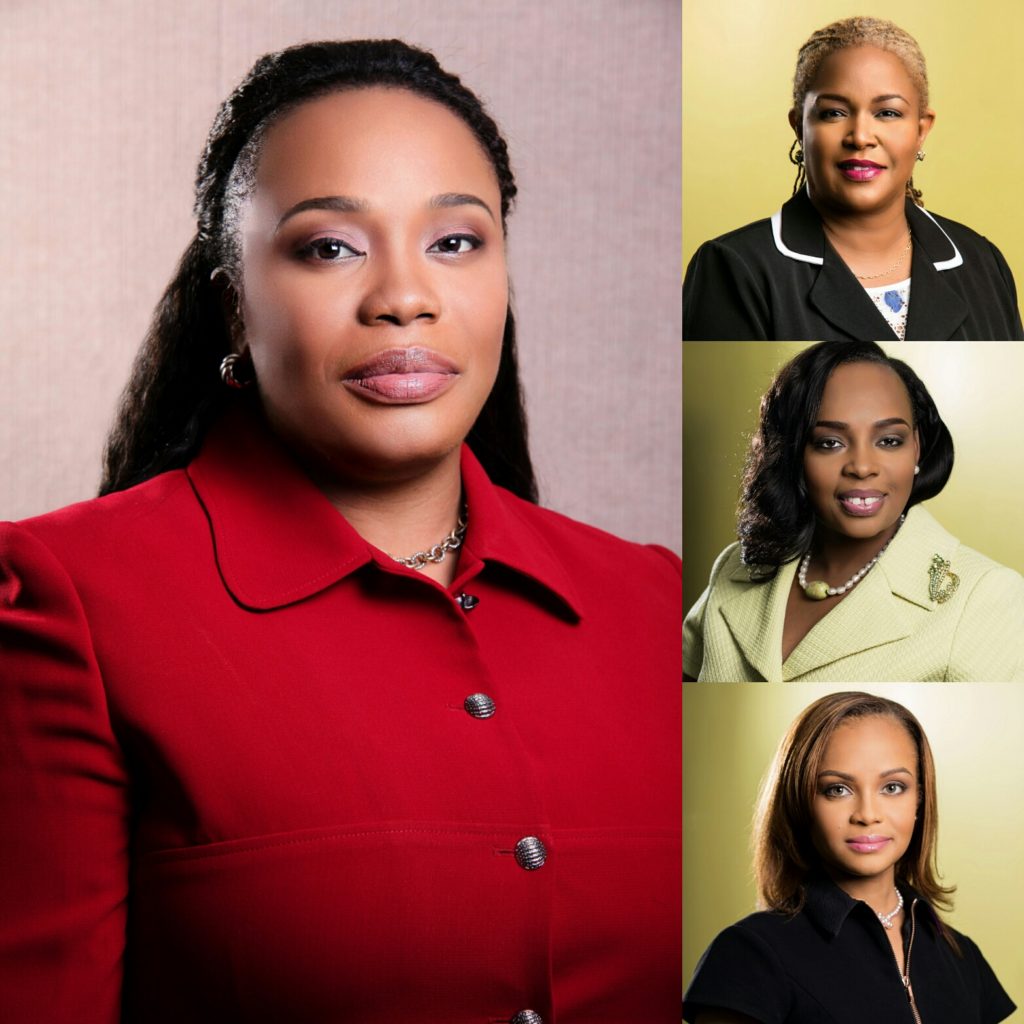 February 16, 2017 (Nassau, Bahamas)… Women continue to take top positions at The Bahamas Telecommunications Company (BTC). Just recently, four of them secured some of the company's most senior titles, in a wave of new appointments to the executive leadership team.
Alphanique Duncombe, is now Vice President for Mobile, in an upward move from Senior Manager. Alphanique has served in the mobile space for more than a decade, and also has an extensive background in Research and Development. She has played an integral role in the roll out the BTC App Wall and the migration to 4G LTE mobile services. Alphanique has also led several market study initiatives including the Voice of the Customer.
Certified Public Accountant, Anastacia Ferguson-Pratt has taken the position of Vice President for Finance. Anastacia has held several senior leadership positions within the finance division over the last thirteen years, including Senior Manager of Accounts Payable, Treasury Management, Revenue Assurance and Payroll.
Veteran attorney, Judith Smith is the company's newest Senior Vice President for Legal and Regulatory Affairs. Judith is a decorated attorney, a member of the Bahamas Bar Association and the Bar of England and Wales. She has also served as legal counsel for the Public Utilities Commission.
Finally, Eldri Ferguson-Mackey, formerly the Vice President of Marketing, has now moved into an expanded portfolio as the first female Vice President for the Northern Bahamas. Eldri has managed the marketing, brand management and communication strategies for the company since 2014. She has held several leadership positions in the company, including product development and business analysis. Additionally, she has played a vital role in the introduction of online bill payment, the migration from legacy mobile to next generation 4G LTE services and the beta test of prepaid electricity.
BTC has long practiced gender equality in the Information and Communications Technology field. In 2014, the telecoms provider was amongst the first companies to sign on to the Caribbean Women in ICT (CWIC) program, a Caribbean-wide initiative aimed at addressing the issues facing women of all levels in the industry. Additionally, BTC teamed up with industry partners and vendors to spearhead, 'Girls in ICT Day', underlining its pledge to improve the status of women in the sector. The leading ladies join a very diverse executive team consisting. Furthermore, BTC's staff comprises of 57% women, well above the global average of 30% for companies in the ICT sector.
Helene Ferguson, Senior Vice President of Human Resources and Training said these promotions are a result of deliberate efforts by the company, born of CEO Leon Williams' mission to migrate the company away from the matrix management structure to a system that empowered local management and staff.
"One of Mr. Williams' first actions when reappointed to office in 2014, was to begin to shape a management team of qualified internal leaders who were able to respond to the challenges at hand. He was committed, to ensuring that we had a knowledgeable and motivated team who could get the job done and better reflect the diversity inherent in our cross-country, multi-island organization." said Ms. Ferguson.
She continued, "BTC is an equal opportunity employer with women helping to run the company at every level. We believe in promoting talent, and there has been a concerted drive to better incorporate gender diversity, at all levels. As part of our commitment to the development of our employees, we offer flexible technical training and e-learning suites to all. Through these efforts, we have achieved high numbers of well-qualified women and we are seeing previously male-dominated positions, such as senior management, occupied by more and more women."
Janet Brown, Chief Marketing Officer and Senior Vice President of Sales, echoed these statements saying that in the end, it is the customer that benefits from these progressive policies. "BTC has long practiced gender equality and diversification in its hiring policies.
We have Bahamian men and women in decision-making positions. It's a mix that brings both talent and diversity of opinions and experience to the table.
Embracing diversity affords us greater adaptability, broader skill sets, multiple viewpoints and more creativity, qualities reflected in our transformative upgrades over the past two years. We strive to learn from each other every day to ultimately create a better experience for our customers."