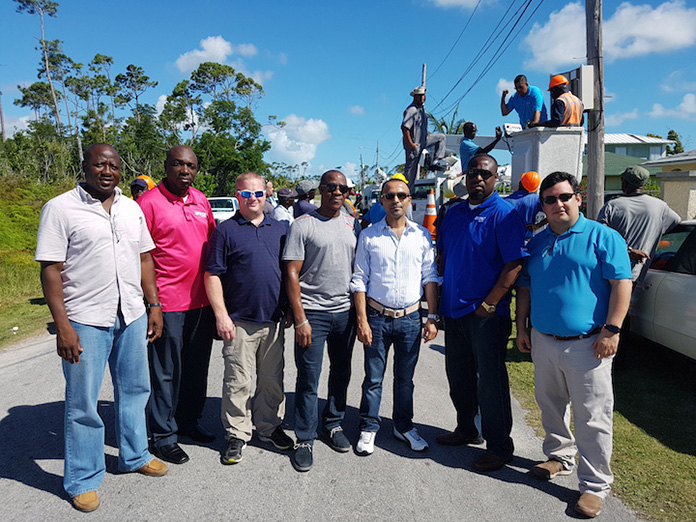 Freeport, Grand Bahama – Always on the cutting edge of new technology, the Bahamas Telecommunications Company (BTC) is set to improve the quality of the customer experience by introducing its new Fiber to Home service. This improved service would provide internet services 20 to 100 times faster than the current cable modem or DSL service which many customers now use.
Once completed, the new scalable technology will ensure that BTC has the required bandwidth to offer a variety of new services including FLOW TV and even smart home technology. This significant investment of 7.3 multi-million dollars in technology represents a commitment to the acquisition of important equipment but also represents a substantial investment in the training of staff as well. BTC Technical Teams on Grand Bahama were given the opportunity to participate first hand in the construction training program.
"This training program means that our service team members are being given an overview of the proper way to install this particular application as it relates to the Fiber to the Home technology" explained Northern BTC Project Manager, Sean Bowe.
The first in a series of training sessions took place in the Freeport, Park Royal area and included the BTC Technical team, Field Engineers, and BTC's company partners: CommScope, Anixter and Cable & Wireless Communications (CWC). The Training teams will be on island for three days to ensure that the Technicians are equipped with the knowledge needed to execute the project at an efficient pace.
"Within the next six weeks we hope to have our first customers active and on the network, which means higher speeds and higher bandwidth" explained CWC Rep, Morris Reid. "The Park Royal Community will be the first of BTC's Grand Bahama Customers to have access to the new service which is expected to go live after August 2017."
BTC has undertaken an impressive timeline for the completion of the first build out of the network, construction of which will utilize a plug and play style, which allows for a faster and more efficient completion of the project.
Customers interested in taking advantage of BTC's internet services and packages by contacting the enterprise store nearest them or simply by visiting the company's website at www.btcbahamas.com/explore/internet.