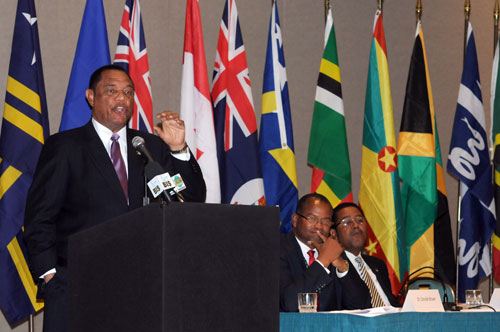 Nassau, The Bahamas – In The Bahamas, Cardiovascular Disease is the leading cause of death in the overall population, accounting for one-quarter of all deaths in the country.
This week, the country welcomed over 100 cardiologists from throughout the Caribbean and North American for the 29th Annual Caribbean Cardiac Society Scientific Meeting. The three-day event is being held at Atlantis Paradise Resort. Prime Minister, the Rt. Hon. Perry G. Christie, was in attendance to officially open the event on Wednesday, July 23 and to deliver remarks of the group of doctors.
"I wish to join with all of the previous speakers, in particular the Minister of Health, Dr Gomez and the Chairman of the Conference Committee,  annual Caribbean Dr. Conville Brown, in welcoming all of the distinguished delegates who have come to The Bahamas from around the Caribbean and elsewhere to participate in this, the 29th Annual Scientific Meeting of the Caribbean Cardiac Society," said Prime Minister Christie. " I acknowledge the presence of Dr. Ronald Henry, the President of the Society. It is so good to have all of you here and as for many of you this is a repeat visit I hope that this particular Conference will be as productive, informative and enjoyable as the previous four meetings that have been held in The Bahamas."
Mr. Christie noted that with cardiovascular disease being so prevalent in the country, conferences such as these provided an opportunity to advance the dialogue among experts in the field of medicine.
According to a report published by PAHO/CARICOM based on the work of the Caribbean Commission on Health and Development, in the Caribbean Region Cardiovascular Diseases (inclusive of hypertension, coronary artery disease and stroke) together with diabetes mellitus, and cancer accounted for 51 percent of the deaths in the latter part of the 1990s. Cardiovascular disease is the leading cause of death. In 2011, the mortality rate due to cardiovascular diseases was 146.8 per 100,000 persons. Cardiovascular disease is prevalent in people who suffer from obesity, hypertension, hypercholesterolemia, tobacco, and excessive alcohol use, among other factors.
Mr. Christie said cardiovascular diseases place a 'strain' on hospital utilisation and the country's resources and the treatments of such illnesses are placing a significant, direct and growing demand on our health services in The Bahamas.
The three-day conference is being held under the theme "Innovative Solutions to Cardiovascular Challenges and The Caribbean and the 2014 Planning Committee, is being chaired by Dr. Conville Brown. During the conference, doctors will focus on discussions and lectures which focus on scientific programmes intended to bring the latest innovations in cardiovascular science and medicine to the Caribbean.
Also in attendance at the opening ceremony was Minister of Health, Dr. Perry Gomez, who delivered welcome remarks and thanked the delegates for returning to The Bahamas for a fourth time.