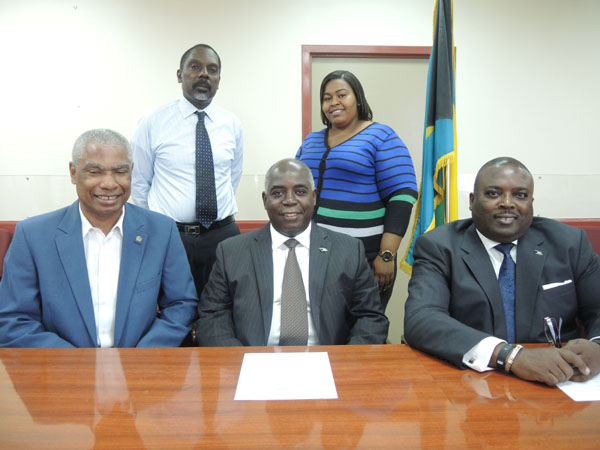 Elcott Coleby
Bahamas Information Services
When the 2015 Cat Island Regatta is held later this year, it will be a very special event for the King family as the Cat Island Association has selected the family's patriarch and one of that island's boat building and sailing legends, the late Herbert King. During a meeting with and courtesy call on the Deputy Prime Minister and area MP, the Hon. Philip Brave Davis at the Ministry of Works, the Deputy Prime Minister who also hails from Cat Island reflected on the contributions of Herbert King and the significance of his work in developing the Cat Island Regatta in addition to building up the cultural, civic and economic life of Cat Island for more than one half century.
"Herbert King was one of our prolific boat builders and sailors in the 'C' class of the Cat Island Regatta. He was instrumental in organizing the annual Cat Island Regatta from its inception. He hails from Knowles and there is a particular location called "King Yard" where most of the regatta spectators gathered during this annual event. Mr. King was a legend and made significant contributions to the economic and cultural development of Cat Island.
"It is a great privilege for the Cat Island Association under the leadership of Mr. Patrick Strachan to identify and to take this time to honour him during the course of this regatta"
The annual Cat Island Regatta will take place during the Emancipation Day holiday weekend. This holiday is celebrated on the first Monday in August, popularly known as "August Monday." The meeting and courtesy call took place on Monday, 27th April 2015.