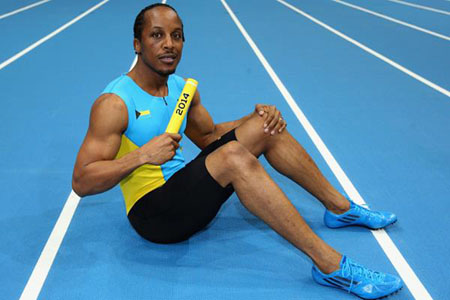 Nassau, Bahamas — Although he just got his season opener this past weekend, quarter-miler Chris 'Fireman' Brown showed that he's in tip top shape and ready to lead Team Bahamas at the IAAF/BTC Bahamas World Relays this weekend at the Thomas A. Robinson National Stadium
The Bahamian national record holder ran the world's fifth fastest time so far this year when he got third in a stacked field in the men's 400 metre dash Beijing World Championship Preview Final on Friday at the Drake Relays at the Drake Stadium in Des Moines, Iowa.
Brown, representing Adidas, clocked 44.76 seconds to trail reigning Olympic Games and the 2011 World champion Kirani James from Grenada, who stopped the clock in the one-lap race in 44.22. Yousef Ahmed Masrahi out of Saudi Arabia was second in 44.70. All three competitors went on the qualifying standard of 45.50 for the IAAF World Championships in Beijing, China in August.
James' time surpassed his previous world leading mark of 44.31 that he posted on April 11 at the Sun Angel Stadium in Tempe, Arizona. American Vernon Norwood has the third fastest time of 44.44 rn on April 18 in Baton Rouge and Abdelalelah of Qatar has the third best time of 44.68 in Sasolburg on March 29.
For Brown, who is still looking for his first individual medal at both the Olympics and the World Championships, it's been such a long time that he's had such a fast season opener that he can't even remember.
"I would say God has been guiding my footsteps and the work that I has done with my coach Innocent Egbunike (the former quarter-miler from Nigeria who won a 4 x 400m bronze at the 1984 Olympic Games and 400m silver at the 1987 World Chmpionships) and my training partner, Angelo Taylor, has been paying off. With us pushing each other it has definitely made a big difference. Our coach has some great expectations for us this year and this is just the start of what to come."
As for running a qualifying time for the World's so early in the season, Brown said it gives him a lot of relief going forward.
"Although I qualified from last year, I was definitely pleased to do it this weekend with such a stacked field of competitors," he said. "With this season being so tight with so many meets coming so close, I don't have to worry about putting down a time. I can just worry about executing and getting ready for the big dance."
Des Moines provided a great opportunity for Brown to display his skills. Also included in the race were American Tony McQuay (45.14 for fourth) and former Olympic and world champion LaShawn Merritt (45.27 for fifth) as well as Dominican Republic's Luguelin Santos (seventh in 45.49), who was the last of the World Championship qualifiers.
"It definitely was set up like a World Championship final," Brown pointed out. "God had a lot to o with it. I just came off my off season training and the field was definitely a stacked one. I just think that heaven smiled on me and I just went out there for it. I'm really pleased with me performance.
"I knew going into the race it was going to be a fast time. A few of us in the race had not yet stepped on the track yet for the year, so with me being well prepared, God granted his favor on me and I put my trust in him. I just knew that on that day, I felt pretty good. Being in that environment and getting the bug out of my system felt pretty good."
Brown said the 22-year-old James is a tough cookie, but he's doing to continue chasing him and all of the other competitors who line up against him.
"He is a kid with a lot of talent. but on any given day, anything could happen," Brown said. "The field will always be a loaded one because the medals are up for grab and I can't focus my attention on any one individual. There are seven other guys out there, so I just have to concentrate on my race."
The race sets the stage for the IAAF World Relays this weekend where Brown is hoping to reunite with his Golden Knights' team-mates of Demetrius Pinder, Michael Mathieu and Ramon Miller as they avenged the Bahamas defeat to the Americans at the initial relays last year.
"I've been watching my team-mates compete. They have been doing very well. At the Penn Relays, they did very well," he said. "With the Worls Relays coming so early, a lot of countries have not been able to get their teams together, by my team-mates are in shape and I know they will step up their game for the World relays. Last year, we lost at the Relays and I know we are coming back to get them back this year.
"I think we have a great chance of winning. We have a great pool of guys. We have some guys who have stepped up at the right time. We will definitely need a few others to go along with the foursome because last year, we didn't have Ramon (Miller) went down and LaToy (Williams) had to step in."
At last year's World Relays, the team of Williams, Pinder, Brown and Mthieu clocked 2:57.59 to settle for the silver as they trailed the USA's team of David Viberg, Tony McQuay, Christian Taylor and LaShawn Merritt, who took the gold in 2:57.25. Trinidad and Tobago's team of Lalonde Gordon, Renny Quow, Machel Cedenio and Jarrin Solomon got the bronze with a national record of 2:58.43.
The 36-year-old said he eouyld like to see the team get back to the form that enabled the Bahamas to win the gold at the Olympic Games in London, England in 2012. Hopefully, with everybody running as healthy as they did over the weekend, he feel the Bahamas has an excellent chance to dethroning the Americans again.
As for his own individual racing, Brown said based on his performance over the weekend, he's gotten a bid into the Grand Prix circuit and will be competing in his first event at the Prefontaine Classic, May 29-30. If all goes well, he will then head of to Europe where he will compete in Olso.
"I'm not concerned about who's going to be there," Brown said. "They have to get to know me. I'm a veteran at this and so they have to get to know me. The legacy still live on. It shows me that the work we are putting in is positive and so anyone who is willing to go to battle, they have to know that I'm not going anywhere. I've outlasted many."
He not not be going into retirement anytime soon, but Brown is packing his bags ad getting ready to return home on Wednesday to prepare for the World Relays this weekend.
"I'm definitely looking forward to this one," he stressed. "This will be the last year in the Bahamas, so we need to have bragging rights. I had fun at the first one and I'm looking forward to coming home and igniting the fire under my team-mates and getting the Bahamian crowd all roused up."
Brown said the team is looking forward to making it a Bahamazing experience.B