Christie Government Working hard to move the Bahamas and Bahamians FORWARD!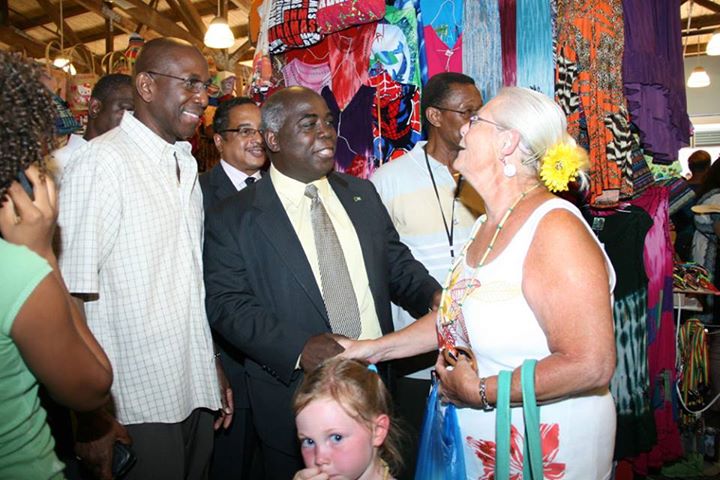 By Llonella Gilbert
Bahamas Information Services
NASSAU, The Bahamas — Deputy Prime Minister and Minister of Works and Urban Development the Hon. Philip Davis and several other Cabinet Ministers did a walk-about of the straw market, Tuesday, July 23, 2013. The Ministers completed the walk-about a day before 40 vendors from New Providence and six from Grand Bahama were to be honoured.
"We toured the straw market today to see the environment in which some of our honourees work, and so they could describe to us from whence they have come and where they are now," the Deputy Prime Minister said.
He explained that the straw market industry has evolved and the Government along with the Straw Market Authority are attempting to make it more even more user friendly for both customers and the straw vendors. He said fans are being installed in the market to help cool down the area for the vendors and their clients.
Deputy Prime Minister Davis said he was impressed by the way the vendors display the products they sell to attract potential customers. "It is a testimony to the pride our vendors take in their industry."
He noted however that the Straw Market Authority has committed itself to utilising the services of the Bahamas Agricultural and Industrial Corporation to help encourage vendors to sell Bahamian products exclusively. Minister of Social Services the Hon. Melanie Griffin said the straw vendors have played a vital role in The Bahamas.
She added, "We have many straw vendors who have been able to educate their children from the straw market: they have doctors, lawyers, secretaries and politicians. You have my mother herself (Telator Strachan) who was a senator along with another honouree Naomi Seymour."
Acting Chairman, Straw Market Authority, Kevin Simmons explained that due to budget constraints only vendors in New Providence and Grand Bahama are being honoured this year.
"This will be the first of what is to be a practice at every Independence to honour those persons who would have given to the straw industry."