Christie: The radio stations say people tired of Christie! DPM HEADS TO WASHINGTON DC AND BALTIMORE!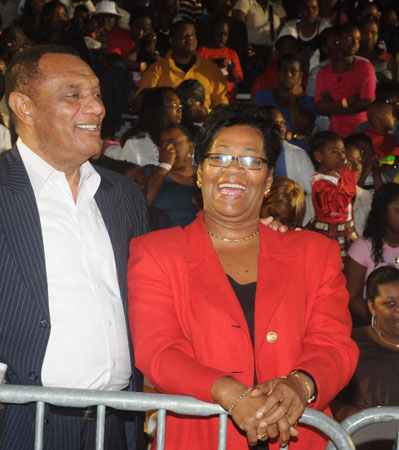 Nassau, Bahamas – All speculations in the print and electronic media, social media, around the cooler and in the barber shops came to an end on Wednesday when Prime Minister Christie announced his intent to offer once again for leader of the governing Progressive Liberal Party during its 41st National Convention scheduled for the first week of November at the Melia Resort. He made the announcement at a Town Hall Meeting in North Eleuthera on Thursday.
Referring to the large crowd on hand, the Prime Minister told the crowd that the media should have been there to see the crowd and suggested that speculations surrounding his leadership were "foolishness" designed to distract his government.
"The radio stations say people tired of Christie. He should have been here tonight with you all. We have no time to be distracted by foolishness" said Christie. He said he would go in as leader and come out of convention as leader.
It is now clear that the Prime Minister will lead the governing Progressive Liberal Party into the 2017general elections.
A crowd of about 300 people showed up at the North Andros High School for the town hall meeting.
Meanwhile, Christie's most likely challenger and possible successor, Philip Brave Davis, has made his way this Sunday into Washington DC and is now headed onto Baltimore where major meetings are expected.
The MP for Cat Island, Rum Cay and San Salvador is expected back in the capital on Tuesday.
We report yinner decide!