St. John's College Alumnus Raphael Munnings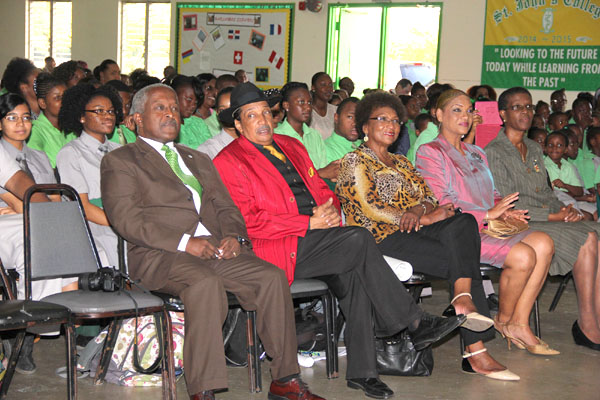 NASSAU, The Bahamas – St. John's College Alumnus Raphael Munnings, leader of the famous 'Beginning of the End' band of "Funky Nassau" fame was honoured at a Special Assembly at the school on Thursday morning.
Students from primary through secondary school levels learned of his achievements as an international entertainer – his band "Beginning of the End" was named one of the '41 Bahamian Cultural Warriors' acclaimed during the Bahamas 41st Independence Anniversary Celebrations in 2014.   The band's hit song "Funky Nassau" sold a million copies in 1971.
Forty-six years since his band started and after a long and successful career as a songwriter, entertainer, and producer, Mr. Munnings said he was honoured and impressed by the students of all ages, backgrounds and races at St. John's who filled the auditorium; and he was touched by the nostalgia of the moment – there was once a time he was just like them.
The band, the 'Beginning of the End' formed in 1969 with leader Raphael 'Ray' Munnings on lead vocals and organ along with brothers Leroy 'Roy' Munnings (guitar and vocals), Frank 'Bud' Munnings (drums, conga and vocals), and Fred Henfield (bass).  They were accompanied by the Funky Nassau Horns – Neville Sampson, Vernon Mueller, Kenneth Lane, Ralph Munnings, and their legendary musician father Freddie Munnings, Sr., who owned and operated the iconic 'Cat & Fiddle Nightclub' in Nassau.
The smash hit, "Funky Nassau" has been featured in film and re-recorded by a number of international performers.
Mr. Munnings belongs to a musical family that has made longstanding contributions to the musical and cultural development of The Bahamas.