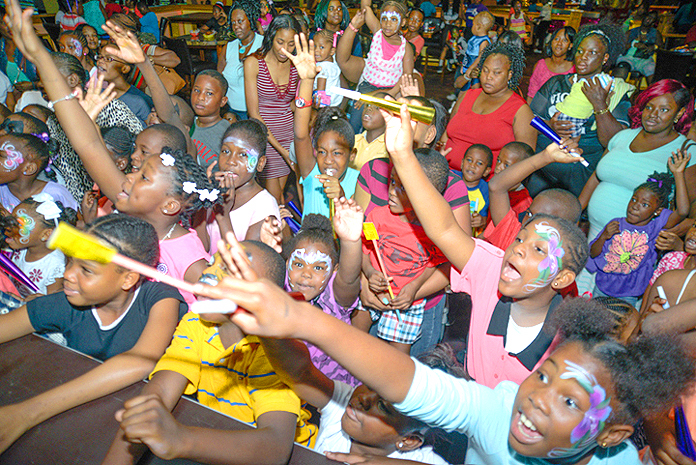 By Jazmine McPhee
Nassau, Bahamas – Good times abounded this past Saturday, January 9th, as over three thousand youngsters from all over New Providence converged on Mario's Bowling and Family Entertainment Palace to enjoy the free party hosted by the recently launched Brice & Newball Foundation.
The happy faces filled the room as participants engaged in exciting activities such as bowling, arcade games, face painting, an outdoor inflatable park with giant slides, bouncing castles and an obstacle course. The event also featured a free menu that included many kid-friendly favorites, such as pizza, chicken wings, hotdogs, and ice cream, just to name a few.
The "Kid's Fun Day" event was open to all young people between the ages of 2 to 12 and, along with child-friendly activities and treats, also included performances by Bahamian recording artist, Julien Believe and Charlie Da Yellow Bahamian Bird, as well as special "celebrity" guest appearances by famous characters from hit movies such as Alvin & The Chipmunks, Frozen and Spiderman. A Sure Win and Brice & Newball Foundation founder, Leander Brice, who attended the event along with fellow business partner and co-founder, Garvin Newball, described the event as being thematically aligned with the work that the Foundation will be doing with youth.
"While today is all about the fun, this is just the kick-off of what will be a number of youth and community-oriented events and activities that will enable us to reach out to at-risk youth and communities and support them in a meaningful way," says Mr. Brice.
"With this event we wanted to generate excitement in a safe, fun atmosphere, and judging by the smiles on all these young faces, I'd say it has been a resounding success."
Over the past year, Mr. Brice and Mr. Newball's gaming operation, A Sure Win, has been building a name for itself as the "Responsible Way to Play" in The Bahamas – a move that has pushed the company to become actively involved in responsible gaming campaigns and corporate donations to worthy causes. The launch of the Brice & Newball foundation is described by the team as being the natural extension of those activities.
Mr. Newball shares Mr. Brice's enthusiasm for social responsibility and giving, and believes that the work of the Foundation can have a substantial impact when it comes slowing the rate of social decay amongst youth:
"This past year has had its ups and downs, but the one thing that has remained constant is our commitment to the community. With the regularization and initial licensing process for the gaming industry largely done, we now have a stable foundation from which we can launch these activities within a cultural and legal context that will be accommodating to our community building capacity."
As for the Brice & Newball Foundation's next steps as an organization, Mr.Newball encourages the public to "stay tuned".
"We have a number of exciting plans for the immediate future, as well as a number of medium and long-term objectives we'd like to accomplish for the 2016 calendar year. As we begin to implement that plan, you can rest assured that more information will be made available in short order."