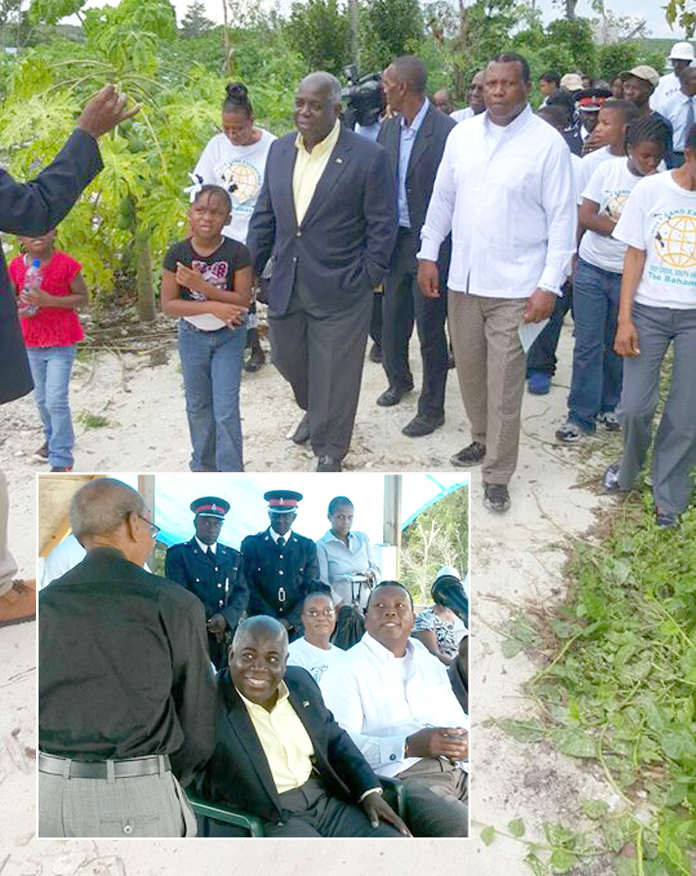 ANDROS, The Bahamas – Androsians celebrated the opening of the first phase of the Bahamas Holy Land Experience, an eco-adventure religious theme park in Andros Monday, January 11.
The Deputy Prime Minister and Minister of Works and Urban Development the Hon. Philip Davis headed a delegation to Andros and officially opened the three-phase development which is in its initial stage.
The park is situated on a 20-acre property in Deep Creek, and on completion will offer 49 Holy Land biblical replicas including the Jordon River Bridge, the Sea of Galilee, the Upper Room, the Well of Samaria, the Tomb of Jesus, and a Prayer Grotto. The park will also offer nature trail walks, fishing in the Creek, corn roasting, story-telling, cooking and opportunities to view ecological and geological sites which include a variety of birds and animals in their natural habitat, natural rock caves, flat and hilly terrain, and species of tropical and medicinal plants.
In attendance were the Hon. Picewell Forbes, the Bahamas' Non-Resident High Commissioner to the Caribbean Community; Andros Island Administrator Gregory Knowles; Kevin Simmons, Chairman of the Straw Market Authority; Local Government representatives; President of the South Bahamas Conference of Seventh Day Adventist Pastor Paul Scavella, other representatives of the Seventh Day Adventist church; and members of the local community.
Pastor Jeremiah Duncombe, founder, said the Commonwealth of The Bahamas has reason to be proud of this park, which offers "infinite potential."
"There is nothing like this not just in The Bahamas but nothing like this in the entire Caribbean. What you will see here is not artificial fabrication. What you will find here is authenticity; things that God created.
"The Bahamas Holy Land Experience is something that glorifies and uplifts only one person that is God. Sites here that you will see for the most part are only being enhanced by man," he said.
In his remarks the Deputy Prime Minister said, "Holy Places are not monuments or museums for tourists, but places where communities of believers, express their faith and culture and carry out their works of charity. Precisely for this reason, I am convinced that this place must be perpetually maintained and protected for those who will visit them in the future. The prospects for this place are phenomenal. While it is not the purpose, the vast opportunities for economy must be considered. May this place be truly a nucleus – a City of Peace. I pray with you that its identity shines forth as a treasure for all Bahamians and a magnet for pilgrims coming from far and wide.
"I trust that your efforts and energies here will courageously and tirelessly pursue a just and lasting spiritual solution to what we now face as a nation. I encourage you to participate in dialogue and lay out paths to reconciliation and peace. In union with all men and women of good will, I implore you to join with others to leave no stone unturned in the search for sustainable solutions to The Bahamas' challenges so that all of us may live in peace. There is simply no other way," added Mr. Davis.
The Hon. Arnold Forbes commended the efforts of Pastor Duncombe and expressed his support for the initiative.
The visiting delegation and other guests were led on a guided tour of the park during the ceremony.