Sean McWeeney QC, Ambassador to the Holy See, attends annual audience of the Diplomatic Corps with Pope Francis at the Vatican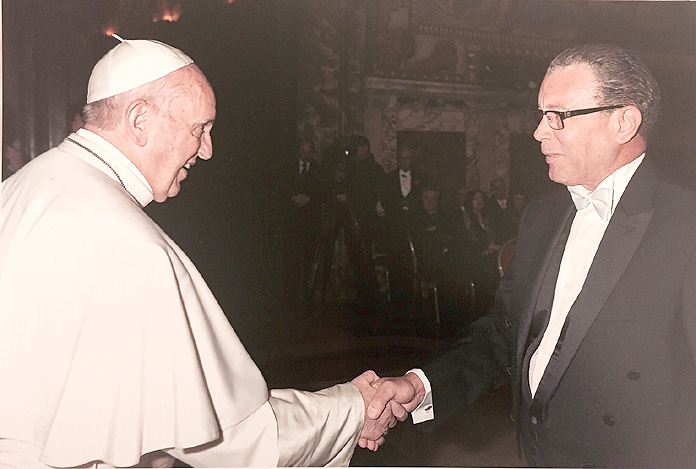 ROME: The Bahamas non-resident Ambassador to the Holy See, His Excellency Sean McWeeney QC, attended the annual gathering of the diplomatic corps accredited to the Holy See, held in the Apostolic Palace at the Vatican this week. His Holiness Pope Francis received in audience, and exchanged greetings with the assembled Ambassadors, including Ambassador McWeeney, who was first received in audience by Pope Francis in December 2014.
The high point of the meeting was the Pope's "state of the world" address on Monday past. An annual event, his speech to the diplomatic corps is considered one of his most important as it is given at the beginning of the year and sets the diplomatic tone for the rest of the year.
The primary focus of the Pope's address this year was the issue of migration. In a lengthy and deeply considered address, His Holiness told the assembled ambassadors that he was aware of the immense challenges imposed by large-scale illegal migration, including concerns over changes in the social and cultural structures of receiving states. However, in the midst of such challenges, he stressed that "there should be no loss of the values and principles of humanity, mutual subsidiarity and solidarity, however much they may prove, in some moments of history, a burden difficult to bear".
The Holy See has formal diplomatic relations with more nations than any other country in the world except the United States. There are currently more than 180 ambassadors accredited to the Holy See.
Ambassador McWeeney was accompanied to the Vatican by his wife, Cyprianna, and Ministry of Foreign Affairs official, Joy Newbold.