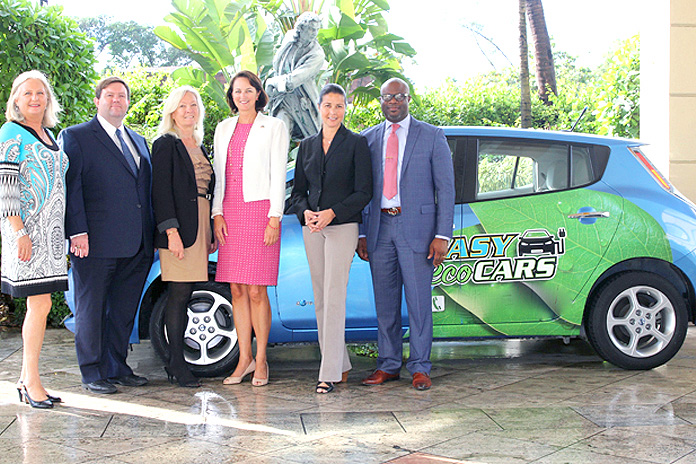 Nassau, Bahamas — Pia Farmer averages 40 miles a day driving around town handling tasks related to business or serving as the honorary consul for Denmark, but it's been more than a year since she stopped for gas.
Farmer drives a LEAF. Her fuel bill is zero, zip, nada.
"The only time I've pulled into a fuel station in the last year was to get a bottle of water," says Farmer who believes that if others fall in love with the LEAF like she has, attendants at local stations could one day be as lonely as the Maytag repairman.
"I just drive, park, plug in when I get home and repeat the next day," she said. "Sometimes I don't even have to recharge. The battery is still close to full."
Made by Nissan, the all-electric LEAF is about as far as you can get from a gas-guzzling, muffler-throbbing, souped up muscle car — and an equally far cry from the stodgy electric cars of yesteryear.
Yet it is surprisingly a combination of both. Roomy with comfortable seating for five, stylish and fast off the mark, it can hit 60 in under 10 seconds and 93 at top speed. Its promised range of 80 miles between charges can be extended to 100 miles with stop-and-go traffic, thanks to a design that allows the batteries to power up every time the brake is applied. "In other words," says Farmer, "the traffic in Nassau that drives us crazy is ideal for the LEAF." Charging can be done with either 110v for a slow charge or 240v for a quicker charge.
Farmer is so impressed with the car she originally chose for environmental reasons that she has talked her husband, John, and his partner into importing them and handling sales through Easy ecoCars, a division of Easy Car Sales on Carmichael Road.
"Denmark is known as a leader in environmental care," said Mrs. Farmer. "Alternative energy from renewals, policies on climate, environmental education — it's so much a part of the culture that being part-Danish (the other part, Bahamian), it was natural to be curious about an energy efficient car, especially with my husband being in the car business." The Farmers other business, Custom Computers, is also cutting edge. "Smart devices, smart tablets, smart cars. It all seems to fit," says the LEAF lover.
Although the LEAF seems like a solid solution for a city like Nassau with steep gas prices and no lack of stop and go traffic, not to mention a plethora of young drivers who would be attracted to the no-gear shifting, instant torque, fast-off-the-line speed, bringing in the LEAF was not a snap your fingers and it happens move.
There was sourcing the cars at the right price, getting in the software for the diagnostics, specialized training, planning charging stations — they want to do solar stations in key locations within three years. And they wanted to be able to sell the car complete with high tech features including Bluetooth and a Bose sound system, air conditioning, and standard safety features including air bags for all five seats, at around $20,000. Currently, that includes a duty rate of 25%. Standard vehicles attract a 65% duty rate. Beyond all that, they wanted to test the car. Eighteen months later, the Farmers were ready to launch.
With all the puzzle parts in place, Pia Farmer introduced the LEAF at the Bahamas Chamber of Commerce and Employers' Confederation Energy Security Forum in early December where it generated a lot of buzz. The first container with cars was not due in until a few weeks later, but there were already potential buyers leaving phone numbers and arranging for a test drive.
"Good for the earth, good for your pocket, bad for the mechanic because there are over 1,000 parts you will never need again and never have to have repaired," said Farmer. "But we'd be happy to talk to mechanics about retraining…"