CIBC FirstCaribbean donates to 14 A and B groups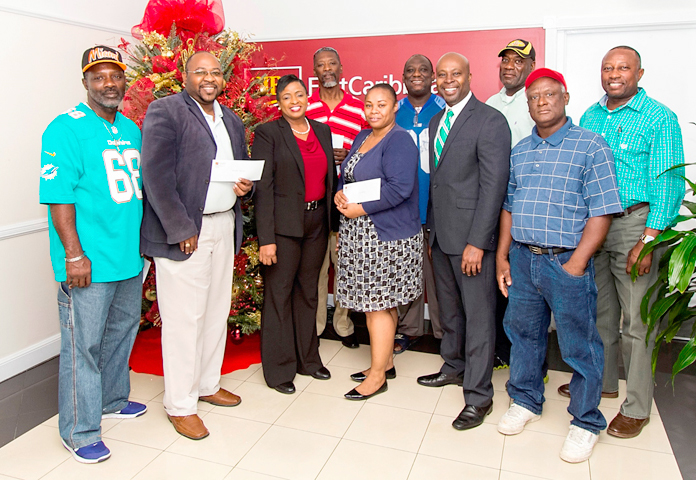 Nassau, Bahamas – CIBC FirstCaribbean gave Junkanoo groups the last push they needed as they prepared for the Boxing Day and New Year's Day Parades. The Bank gathered the leaders from 14 Junkanoo groups at its Shirley Street headquarters for its annual donation presentations, a two-decade tradition. Each Junkanoo group received a donation to help defray the many expenses involved in preparing for the Bay Street parades.
CIBC FirstCaribbean's Managing Director, Marie Rodland-Allen, said that the longstanding commitment to Junkanoo is a part of the bank's efforts to give back to the community while upholding Bahamian culture and the arts.
"CIBC FirstCaribbean has a strong mandate throughout the company to be 'First for Community," said Mrs Rodland-Allen. "Junkanoo is vital to the Bahamian community and identity. Giving to these groups annually we don't just support a spectacular event, we also help to sustain our culture and preserve a creative space accessible for all Bahamians. We are happy to support the Junkanoo groups in bringing the community together in a positive way."
Brian Adderley, of the Boxing Day Champions The Valley Boys, said that the donation came at just the right time.
"The last few days before Junkanoo are the most costly," said Mr. Adderley. "There are so many last minute things to take care of, and things pop up that you didn't factor in. So this donation comes at an opportune time. They are putting an investment into Junkanoo so I want to thank CIBC FirstCaribbean for that support."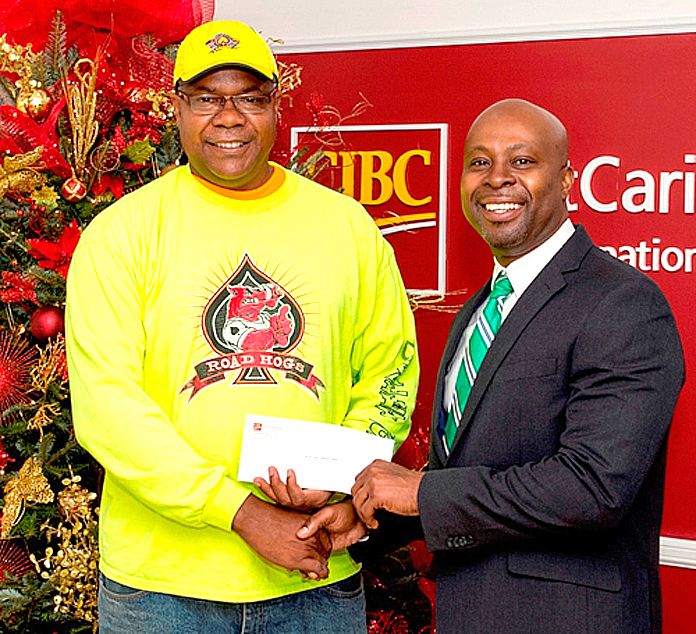 Henry Higgins, Leader of Conquerors for Christ echoed his thanks, stating that CIBC FirstCaribbean is a long-time supporter of groups of all sizes.
"For all of my group's existence we have received a donation from CIBC FirstCaribbean. This annual donation helps us with finishing touches for the banner and lead costume, it is very needed and much appreciated. We are very grateful for what CIBC FirstCaribbean continually does for Junkanoo and Bahamas as a whole. I think the B-category level has really improved so competition will be stiff… we are looking forward to being as prepared as possible for Bay Street."
Eric Knowles, leader of Prodigal Sons added that by supporting Junkanoo groups donors also assist the wider communities. "We are one of the A-groups that do not have a presenting sponsor, so we rely on corporate donations like this one from CIBC FirstCaribbean to get us to Bay Street," he said. "We are also a very young group, so the people who benefit from donations are often school kids and people throughout the community. We balance donations like this, with some going to the parade and some going to the community. So thank you CIBC FirstCaribbean, we would be in trouble without you."
The recipient groups were, from the A category: Music Makers, One Family, Prodigal Sons, Roots, Saxons Superstars, and Valley Boys; and from the B category: Body of Christ, Colours Entertainment, Conquerors for Christ, Fancy Dancers, Foundations Junkanoo Group, Fox Hill Original Congos, Redland Soldiers, and Z-Bandits Junkanoo Groups.