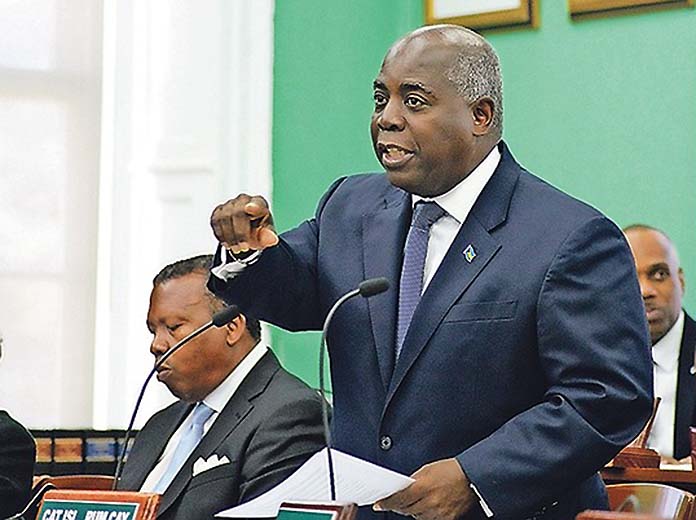 Nassau – Opposition Leader Philip 'Brave' Davis is seeking the rationale behind the Government's move to purchase the Grand Lucaya property for $65 million, only to flip it in the short term at a great financial loss to Bahamian taxpayers.
Making his concerns known to the House of Assembly this week, Davis said if it is correct that the Government is entertaining potential purchasers and their proposals are under active review, then why 'flush' $65 million dollars down a 'blackhole', incurring redundant financial loss.
"What is the Government's rationale for refusing to simply put buyer and seller together without having to acquire the hotel only to flip it in the short term at a great financial loss to the taxpayers," Davis said. "The Government has flown in the hotel union executives for the occasion and I expect that they will play a little politics with this whole purchase by "grand standing" to portray us as uncaring and insensitive."
The PLP Leader advised the House that in determining a realistic purchase price and interest, it should be noted that for a long time, a leading international broker had placed the hotel property on the market without success. He added that it was later revealed how potential purchasers were not willing to meet the demanded price and concerns were expressed with the touristic infrastructure of Grand Bahama.
"Furthermore, the seller, having collected substantial hurricane insurance and loss income claim, apart from minimal repairs to Lighthouse Pointe, opted to retain the balance and not to repair and reopen the other two larger hotels (Breakers Cay and Memories)," he said. "It is against the foregoing background I am calling to question the purchase price of $65 million dollars."
Davis then stressed how imperative it is for the Government to fully disclose how much the deal is really costing the Bahamian people and how the purchase and operation of the hotel property are to be funded.
"In negotiating the purchase price, the Government should have required the seller to take into consideration the proceeds from their hurricane insurance claim, the concessions which they enjoyed over the years under the Hotels Encouragement Act and the Hawksbill Creek Agreement as well as the significant subsidies received from the Government….." he said. "Any deal with Hutchison Whampoa on the purchase of their hotels should have included an undertaking on their part to improve both the international and domestic terminals in Freeport, which they own."
Davis went on to say that the deal should have also included bringing down the cost of fuel, handling and other airport charges to competitive levels to improve chances of success.
—-END—
Daviscommunications
Caption: Opposition Leader Hon. Philip Brave Davis Q.C. in Parliament.