Christie Government must look closely at 'RED SEA' Digicel deal…BP Calls on the Gold Rush Government NOT TO BE FOOLED OR TRICKED!!!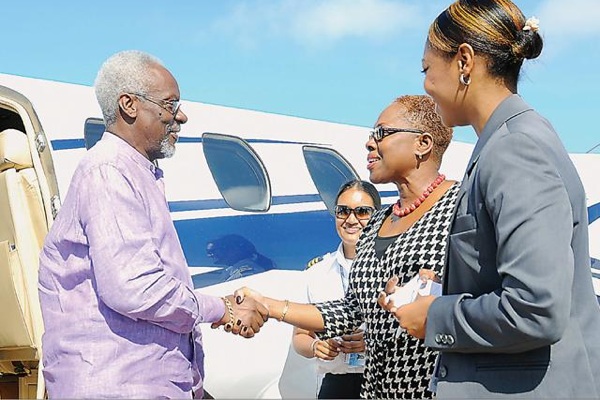 The next telephone network in competition in the Bahamas MUST BE more than 50% Bahamian Owned!

Nassau, Bahamas  — Remember how BP was the first to break the news that Digicel had sent its Jamaican Front Man PJ "Bag O Money" Patterson to the Bahamas to try to broker a deal to let "Red Sea" Digicel into the Bahamas – the same PJ Patterson for whom the Jamaican Police reportedly found a Bag of Cash when he was on the way to Cuba to try to broker a Digicel deal there….
Well now it turns out that PJ may need to go retrieve that bag of money to go help out the Digicel big chief Dennis O Brien, whose other company, INM, is in big financial trouble. INM is a media company where O Brien is a principal owner. The Irish Times is reporting that INM's bank lenders are swooping in to take over the troubled company and "restructure" its 420 million Euro debts. It seems like OBrien built this media empire on a house of debt and now things are falling apart.
We again remind the government to be careful with this Digicel "Red Sea" Crew. Digicel has done the same thing with its cellular phone business. It has built its business on a mountain of debt, to the tune of some estimated $5 billion. OBrien has borrowed a heap of money, gone into a country, cashed out his portion and borrowed some more. And as is happening with his other company INM, it is only a matter of time before the banks and other borrowers come for dey tings with Digicel! It will then be the financial institutions who will be owning and operating these Digicel phone companies all over the world. We call on the Gold Rush government not to be fooled.
BP has stated its petition on cellular competition. We need it in the Bahamas. But the government must be true to its "Put Bahamians First" mantra and award the second and even third cellular licences to companies and partnerships that are majority Bahamian owned. We say beware of the "Red Sea" Digicel and tell them that they can't use that FNM colour if they come here. But if someone want to come for a piece of the pie, tell them to serve as minority partners to Bahamians. Let's stand united on this principle: The next cellular phone company in the Bahamas must be a majority Bahamian company. And get this We are not into Cable Bahamas!
BP will have more to say on dem over the next few days…STAY TUNED!
WE REPORT YINNER DECIDE!
Notes (not for publication):See link to Jamaica Gleaner article:
http://jamaica-gleaner.com/gleaner/20120606/business/business5.html
See article below from Irish Times in INM
THE SUNDAY TIMES
Banks take INM equity
Brian Carey Published: 24 March 2013
A SYNDICATE of eight Irish and international banks are poised to take a sizeable equity stake in Independent News & Media (INM) as part of a complex restructuring of the country's largest newspaper company.
A steering group of the company's banks, led by ANZ, RBS and Barclays, this weekend tabled a series of proposals designed to reduce the INM €420m debt burden.
The bank debt for equity swap and a shareholder contribution form a central part of the agreement. Under the debt for equity deal, the banks would agree to swap a portion of its €420m debt for shares in the company. The shareholder contribution will most likely include a rights issue and possibly a shareholder loan from Denis O'Brien, the company's largest individual shareholder.
The group's bank syndicate, and likely future INM shareholders, includes AIB, Barclays, Lloyds, RBS, Bank of Ireland, HSBC, KBC and ANZ.
The steering group has recommended acceptance of a "framework deal", but the final outcome is still open to some negotiation, sources say.
Leslie Buckley, the media company's chairman, said late last year that the company needed a €100m bank debt write-off.
The conversion of this amount of debt to equity, at the current depressed share price of 3.5c, would result in the banks taking a large majority stake. INM's market capitalisation last Friday was €19.2m.
As a result O'Brien and fellow shareholder Dermot Desmond may be asked to contribute further equity. A deal may also be structured to keep INM's stock market quote, a source added, and also keep O'Brien's shareholding below the 29.9% level above which a full bid for the company would be triggered.
The completion of the agreement is likely to be contingent on the finalisation of a deal to sell the group's South African newspaper division.
A consortium headed by Sekunjalo, a Johannesburg-quoted conglomerate, and its chairman, Iqbal Surve, last month agreed to pay €170m for the INM titles.
The banks are also keen for the group to finalise terms on addressing the €100m-plus deficit in its defined benefit pension scheme.
A deal will most likely be made public at the company's annual results presentation some time next month.