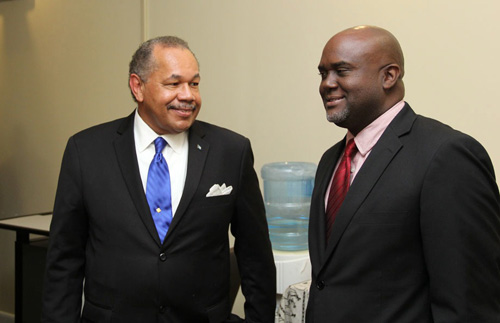 NASSAU, The Bahamas – In preparation for transition of The College of The Bahamas (COB) to university status, a draft University of The Bahamas Bill is presently being circulated for input, discussion and feedback to faculty, staff, students, alumni and the College of The Bahamas Council.
College of The Bahamas President Dr. Rodney Smith said the bill has elements that will, "Transform the College of The Bahamas to the University of The Bahamas and signal that the University will act differently and be a different institution.
"The actual transformation will then have momentum. Over the next few years, we will see both infrastructural and programmatic transformations as we continue to build the University," he said.
Dr. Smith updated the media on the institution's progress toward the transition to university status during a press conference on Tuesday, March 10.
Before becoming law, the draft Bill will be presented to Cabinet then follow the parliamentary process.
Dr. Smith explained that the expansion of "shared governance" across the campus would be one of the most "significant" changes resulting from the Bill. "The University will establish a Faculty Senate, to which all members of faculty will belong and which will replace the Academic Board. The Faculty Senate will provide oversight over the entire curriculum and all matters pertaining to standards and academic quality of the institution."
A new entrance, Tucker Road from the Thompson Boulevard entrance, referred to as "The Gateway to the University of The Bahamas" is among the changes in COB's transformation process. The new entrance is expected to be constructed before the 2015-2016 academic year.
A new royal blue and white logo has been approved by the College's Council. The new logo will replace the present orange, tan and brown logo.
The president informed that construction on the Franklyn R. Wilson Graduate Centre is progressing steadily and very soon construction will begin on additional buildings on campus including the expanded GTR Campbell Small Island Sustainability Research Center and the first on-campus residence hall.
"We will shortly begin the renovations to the Portia M. Smith Building while additional new infrastructures will be announced at a later date, including the University's access to all sporting facilities at the National Sports facilities and the establishment of the Big Pond area as an ecosystem preservation Research site under the University of The Bahamas," the President said.
Plans for residence facilities for the Grand Bahama Campus and the main Campus in Nassau are near completion and are expected to be constructed by the 2016 academic year. In addition to a health services center, the residence hall at the Northern Bahamas Campus will house 55 students, a cafeteria, study facilities, a library and technology center.