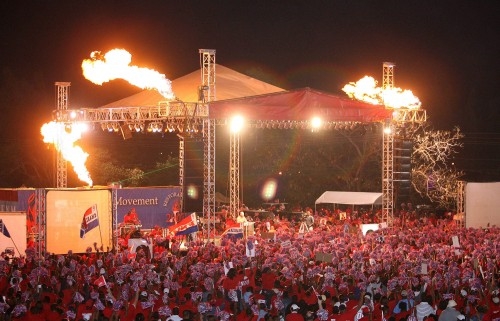 Nassau Bahamas — FNM STATEMENT: The politically delusional mind of Bradley Roberts is at it again. He ignores the fact that the Ingraham administration gave the largest tax relief in the last 30 years when it removed or substantially reduced customs duty on many food items; increased the ceiling on stamp tax exemption for first time homeowners to $500,000, allowing them to claim tax relief for a single homeowner of up to $50,000; provided tax relief for Bahamians building restaurants or entertainment facilities in designated tourist areas under the amended Hotel Encouragement Act; and provided tax relief for new businesses or renovated businesses in the City of Nassau under the Nassau Redevelopment Act.
Already, almost 1,000 Bahamians have been approved under the first time home-owners programme, receiving millions of dollars in relief; some seven businesses have already been approved under the Nassau Redevelopment Act; and businesses are taking advantage of the provisions under the amended Hotel Encouragement Act.
Mr. Roberts would do well to explain how it was that his party's 15 Members of Parliament in the House of Assembly voted for the Budget which he says contained the largest tax increase in the recent history of the country and how were they deceived in the process.
If this is so, then they would be a most incompetent group of parliamentarians and one would wonder how they could be trusted to lead the country. It is the duty of all parliamentarians to study all matters that come before the Parliament.
It would be lost on someone like Bradley Roberts that when his party was kicked out of office in 2007 it left the Government's bank account in worse shape at negative $97 million, just $3 million below the limit, in what they said were the best times ever than they are today with an overdraft of $63 million, more than $20 million below the limit, in what every Bahamian knows is the worse economic times throughout the world since the Great Depression.
Bradley Roberts told a direct lie when he told the Bahamian public that there are 9,000 households without electricity supply. What he will not say is that his party never lifted a finger to help those in distress at BEC, even when an average of 18,300 people were out of work from 2003 to 2006. It was the FNM that brought relief to some 5,000 households when it provided some $4.5 million to BEC and the Grand Bahama Power Company to ensure that households had their lights turned on. We did it before and we will do it again.
Mr. Roberts should have bitten his tongue to speak of delay in payment on contracts. His party's record on this score is so bad that any number of contractors had to walk away from contracts for non-payment.
Of course, leading up to the general election of 2007, the PLP was all too eager to open the public purse to pay selected contractors, ignoring many of the rules of transparency and fiscal prudence in order to do so. Such behaviour has been called into question by any number of audit reports on hand.
Bradley Roberts should hang his head in shame to speak of telling the truth; he is a stranger to truth telling. That is why each time he spouts his lies and misinformation, he will be met with a response from the Free National Movement. We will not be distracted by him and we will continue on our Trust Agenda for better but we will also crush the lies of the politically delusional.