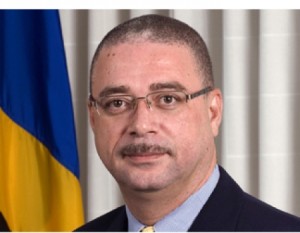 By NationNews.com
Barbados — Barbados has been plunged into mourning with the death of Prime Minister David Thompson. He died this morning at 2:10.
According to reports, he died at his home in Mapps, St Philip with his family by his side.
Thompson served as Prime Minister of Barbados from January 2008 when the Democratic Labour Party won the government. He was diagnosed with pancreatic cancer in September.
It was during May that Thompson, accompanied by his personal physician Dr Richard Ishmael, announced to Barbadians that he was not well and was seeking medical attention.
On September 30 Thompson gave his last address to the nation, where he also announced a Cabinet reshuffle.
Thompson, 48, leaves to mourn his wife Mara and three daughters.
Tributes have already started to pour in.
Prime Minister Rt. Hon. Hubert Ingraham from London said, "I was deeply saddened to learn of the passing of my friend and colleague, the Hon. David Thompson, Prime Minister of Barbados, following a short but devastating illness.
"Like all of his friends and colleagues I had hoped that this day would have been postponed. David has been a valued member of the Conference of Heads of Government of the Caribbean Community and his voice will be sadly missed in future deliberations.
"Still a young man, David had much to contribute to his country and to our region.
"On behalf of the Government and people of The Bahamas and on my own behalf and that of my wife Delores, I extend sincere condolences to David's wife, Mara, his three daughters, his parents and to the Government and people of Barbados at this time of personal and national bereavement."
CLICK TO WATCH FOOTAGE FROM BARBADOS COURTESY OF AP
http://video.ap.org/?f=BBSMN&pid=C_58bSMmACAqdgkf5BwVj6YV1YUdzdtH
http://video.ap.org/?f=BBSMN&pid=C6Xn782hB8D_y44vZuKoR0sF90cI1v_d
http://video.ap.org/?f=BBSMN&pid=dYukmXGmnGbwEAAZ0vnvs3ShLisvW7t_