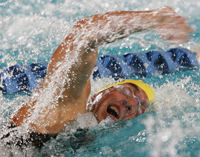 By RON TODT Associated Press Writer
PHILADELPHIA (AP)—Fran Crippen, a medal-winning open-water swimmer on the U.S. national team, told his coach he wasn't feeling well late in a race before he died in the United Arab Emirates on Saturday.
The 26-year-old from a family of prominent swimmers in suburban Philadelphia was competing in the FINA Open Water 10-kilometer World Cup in Fujairah, south of Dubai, but failed to finish and was found in the water two hours later, according to Swimming World.
The magazine said the water temperature was in the mid- to high-80s, and several swimmers were treated for heat exhaustion after the race.
Swimmers were the first to respond when Crippen failed to arrive at the finish. Several returned to the water to search for him and were soon followed by a dive team. Crippen's body was found just before the last buoy on the 2-kilometer triangular course, race organizers said.
He was rushed to shore and transported to Fujairah Hospital, where he was pronounced dead.
FINA President Julio Maglione of Uruguay said he was told that after eight kilometers Crippen told his coach that he wasn't feeling well.
"He continued and he was found in the deep of the water," Maglione said from Acapulco, Mexico, where he was attending Olympic meetings.
Crippen's family is well-known in the swimming world. Maddy Crippen swam for Villanova and competed in the 2000 Sydney Olympics, Claire Crippen was an NCAA All-American at Virginia, and Teresa Crippen currently swims for the University of Florida and is a member of the U.S. national team
"He was our hero," said Maddy Crippen, reached at her parents' home in Conshohocken. "We loved him very much, and we'll all miss him."
Maglione said it was the first death in any FINA event.
"It's like (what) happens sometimes in soccer, in basketball, in other sports. In one moment, one athlete dies," he said.
Maglione said FINA has opened an investigation.
"All was under strict rules that exist in our competition. All was absolutely correct," he said. "It was an accident, a terrible accident."
In addition to Crippen, Maglione said three other swimmers – two U.S. women and one Brazilian – were taken to a hospital.
"They are not in any kind of problem," he said.
Eva Fabian of Keene, N.H., Christine Jennings of Longmont, Colo., and Alex Meyer of Ithaca, N.Y., also competed in the meet.
Competitors all described the conditions as unusually hot, but would not comment about Crippen's death.
"These are very hot conditions for swimming," said Thomas Lurz of Germany, who won the men's race.
Evgeny Drattsev of Russia, who came in second, admitted he had never competed in such warm conditions before.
"The water was really hot and it was a kind of new experience for me here," he said.
Crippen's death has raised the possibility that a 15-kilometer open-water grand prix that is supposed to be held at the same venue Wednesday could be canceled.
Ahmed al-Falasi, president of the UAE Swimming Federation, said the organizing committee will meet Sunday to decide how to proceed.
USA Swimming said coaches, athletes, members and employees were "deeply saddened" by Crippen's death.
"Fran was a champion swimmer but more importantly, a tremendous person, and he will be remembered for so many extraordinary qualities," the organization said in a statement. "We will continue to work with FINA, the meet host and others to determine how this tragedy occurred."
The U.S. Olympic Committee said, "We send our condolences and deepest sympathies to the Crippen family as well as to our entire swimming community. While details of this tragedy are still forthcoming, we shall keep this outstanding young athlete and his family in our thoughts and prayers."
Crippen attended Germantown Academy in Fort Washington, Pa., and swam for the University of Virginia. He was the silver medalist in the 10k at the Pan Pacific championships in August, earned a bronze medal in the 10k at the 2009 world championships, was national champion in the 5k in 2009, and won a gold medal in the 10K at the 2007 Pan American Games.
Germantown Academy swimming coach Richard Shoulberg recalled how Crippen sacrificed his own time at this year's Pan Pacific meet by turning around during the race and swimming toward a teammate, Alex Myers, who had fallen behind and appeared to be in trouble.
"He went back to help him until the Jet Ski with the first-aid guys got there," Shoulberg said. "He just missed winning by a hand."
Shoulberg said Crippen called him from Dubai recently, and talked about the Philadelphia Phillies' playoff run and his plans to visit Italy with his girlfriend. Crippen also told him the water was 87 degrees and the air temperature was around 100 degrees, Shoulberg said.
But he also said Crippen had swum in water as cool as 62 degrees. "That's the nature of the sport, and he knew that," Shoulberg said.
Crippen finished fourth in the 10k and fifth in the 5k at this year's world championships. He competed in the 2004 U.S. Olympic trials.
On his Facebook page, he posted Thursday that he was "in Dubai for the final World Cup of the season and then off to Italy for vacation!"
The page now has many messages of condolence from friends and fellow swimmers.
"Fran you will be missed you were the best of the best," said 2000 Olympic silver medalist Kristy Kowal.
AP Sports Writers Stephen Wilson in Acapulco and Beth Harris in Los Angeles contributed to this report.