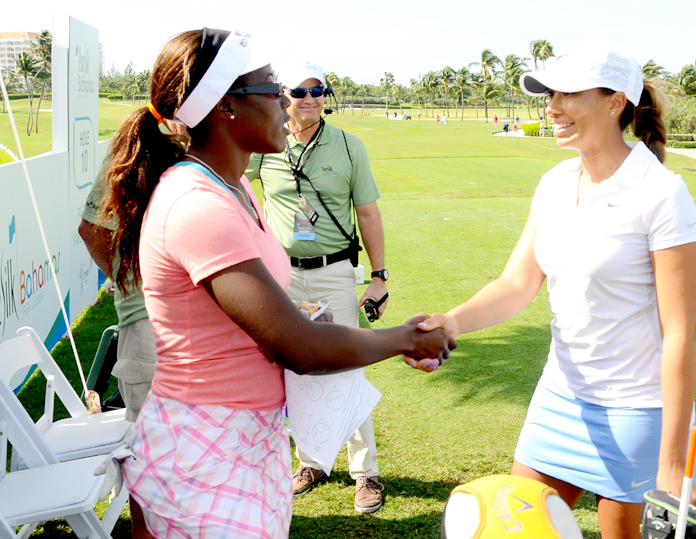 PARADISE ISLAND, The Bahamas — For Bahamian woman golfer Georgette Rolle, working on her "mental game" is vital as she participates in the fourth annual Pure Silk-Bahamas LPGA Classic at the world famous Ocean Club Golf Course.
Rolle defeated Raquel Riley by five strokes to win The Bahamas exemption into the Pure Silk-Bahamas LPGA Classic.
Prior to teeing off on Thursday, January 28, Rolle said that she was more relaxed this year because she had played in the Pure Silk-Bahamas LPGA Classic previously.
"I am driving the ball well; my critical thing is to get the ball into the hole. I have been working on my game, mentally."
Rolle is also an LPGA Teaching and Club Professional Class A member and a graduate assistant coach since 2007 for the men and women's golf teams at Texas Southern.
She is a two-time champion of the Bahamas National Amateur Championship in 2003 and 2007, and also was the National Minority Champion, Women's Independent Division, in 2007. She started her professional career in 2008. She started playing the game since the age of seven.
This is the fourth year The Bahamas, through the Ministry of Tourism, is hosting the Pure Silk-Bahamas LPGA Classic, January 25 -31.
A total of 108 golfers will compete in the fourth annual tournament, which offers a purse of $1.4 million, plus a full allocation of points in the Race to the CME Globe season-long competition. The winner receives $195,000 and 500 CME Globe points. Defending champion is Sei Young Kim, the 2015 Louis Suggs Rolex Rookie of the Year.
The Ladies Professional Golf Association (LPGA) is an American organisation for female professional golfers. The organisation is headquartered in Daytona Beach, Florida, and is best known for running the LPGA Tour, a series of weekly golf tournaments for the elite female golfers from around the world.
The Pure-Silk Bahamas LPGA Classic is the first on the LPGA season and ends on November 20 at the Gold Course of the Tiburón Golf Club in Naples, Florida.
The Golf Channel will provide 10 hours of live coverage beginning Thursday from 11:30 a.m.-2:30 p.m. EST. Live second-round coverage on Friday, also is 11:30 a.m.-2:30 p.m., while live coverage of the final two rounds Saturday and Sunday will air 3-5 p.m. EST.