There are thousands of young Bahamians doing good in the world!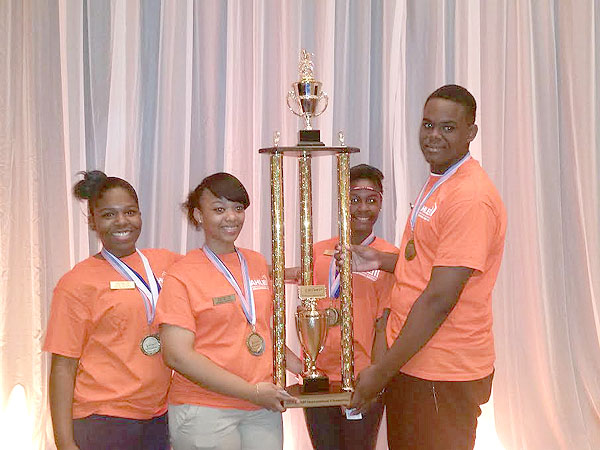 Nassau, Bahamas — This annual event welcomes high school students from around the world to Orlando, Florida to display their skills in a two-day competition that challenges the students with situations inspired by real-world job scenarios in the hospitality industry.
Besides winning scholarships, the students also won an all-expense paid trip to New York City to attend the American Hotels and Lodging Association Fall Conference and the International Hotel, Motel & Restaurant Show, where they will have the opportunity to connect with some of the most influential leaders in the hospitality industry.
This year marks the fifth year that students from Anatol Rodgers have participated in this competition. Each year however, they have been determined to improve on the performance of the previous year. The first year, the team placed 5th overall; the second year, the team took 7th overall, the third year, they placed 5th; the fourth year, they secured a 4th place finish and this year, they walked away as the champions. Anatol Rodgers is the first school outside of the United States of American to win the competition.
Among this year's competitors were two high schools from Florida, a school from California, Guam, Idaho, New Hampshire, Texas, Washington, DC and Whyoming. There was also another Bahamian school in the competition. Their fellow-Bahamian competitors were from Jack Hayward High School in Freeport, Grand Bahama.
During the HTMP competition, teams of students display their proficiency while competing in three contests:
·      Hotel Operations: Students apply their knowledge in a three-part challenge: room inspection, in which students have 10 minutes to find 10 housekeeping cleaning errors in a typical guestroom using an executive housekeeping checklist; night audit, in which teams perform financial calculations and manually post front desk accounting information; and case studies in food and beverage, guest service and sales and marketing, in which students have 20 minutes to prepare solutions to case study scenarios.
·      The Hospitality Project: Teams demonstrate their knowledge, skills, and abilities in event planning. They are given a scenario that includes budget parameters, proposal design, banquet event order, menu, and floor plan.
·      The Knowledge Bowl: Teams demonstrate their knowledge through a multi-round, question-and-answer quiz.
Mrs. Janelle Cambridge-Johnson, who has been out of the classroom for approximately one year, introduced this competition to the school in 2011. A former Hospitality and Tourism Management teacher at Anatol, Mrs. Cambridge-Johnson wanted her students to be exposed to the international world of Hospitality and Tourism Management and give them an avenue to explore their talents. Although she is no longer in the classroom, Mrs. Cambridge-Johnson views this as a way to give back and regards her efforts as community service. She credited the students for their commitment to the preparation required. She stated, "We met every Sunday from September 2014 to April 19 to ensure that they were well prepared for the competition and the sacrifice paid off." A certified hospitality instructor, Mrs. Cambridge-Johnson took advantage of the opportunity to become certified a few years ago when she participated in a partnership between the Ministry of Education, Science and Technology and the Ministry of Tourism.
Mrs. Cambridge-Johnson also thanked Mrs. Myrtle McPhee, the principal at Anatol Rodgers who she says has been an ardent supporter. Mrs. Johnson reflected, "she was always very supportive of my efforts to enhance the Hospitality and Tourism program while I was at the school and even when I decided to continue working with the students for the competition after I left. She was my greatest advocate."
Each student received a scholarships valued at $57,000 and among their university selections are: Culinary Institute of America, Sullivan University, Florida International University, University of Maryland Eastern Shore, San Diego State University, Johnson & Wales University, Newbury College (Brookline Massachusetts) and the American Hotel & Lodging Educational Institute. Mrs. Cambridge-Johnson expressed her joy for the students' performance by stating, "I am happy that these students will have the opportunity to attend university. This reinforces what we already know – that hard work pays off. I am sure that these students will have a bright future in hospitality and tourism management."
Congratulations are also extended to the team from Jack Hayward High School in Grand Bahama; Ajayi Oliver, Rose Cherilus, Kendecia Woodside and Coach, Gailey Williams for their 5th place finish.