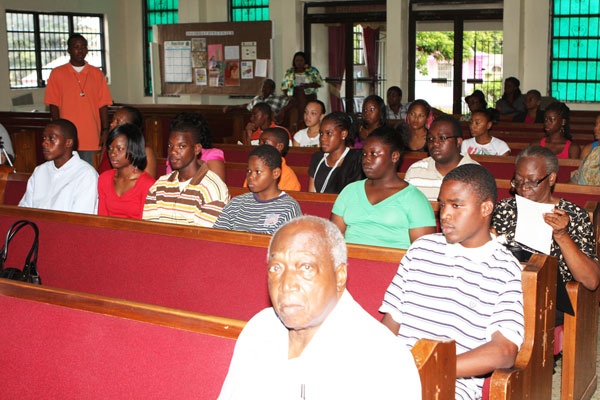 Nassau, The Bahamas – Fox Hill youth battle crime with business opportunities by creating and selling products needed in their community. The new entrepreneurs completed a CARICOM workshop designed for "Youth who live in High Crime Volatile Communities."
"Dedicated youth development specialists have committed their lives to providing various organisational programming and activities for the empowerment and wholesome engagement of our youth," said the Hon. Charles Maynard, Minister of Youth, Sports and Culture.
"Socioeconomic burdens dictate the need for a paradigm shift in the way we conduct the business of the youth. It cannot be business as usual if we expect a different result."
On August 13, the Ministry of Youth Sports and Culture and the CARICOM Secretariat, Dr. Heather Johnson, joined the Ministry of Labour and Social Development at to celebrate the piloting of the Anti-Crime and Violence Workshop at the Macedonia Baptist Church on Bernard Road in Fox Hill.
"According to the annual review by youth participants during the National Youth Against Crime Forum, hosted by the Ministry of National Security in 2009, there has been a dramatic increase in the number of youth engaged in violent and criminal activity since 2005," said Mr. Maynard.
"Further, it is through the studies conducted by the National Youth Policy Consultative Team that we understand that the involvement of youth in crime and violence is indeed fuelled by a lack of inactivity and its persistence in the absence of positive youth programmes in communities."
The CARICOM Youth Ambassadors Regional Corps created the project. However, the National Youth Ambassadors to CARICOM organised it with other Bahamas Government agencies.
Both ministries felt the responsibility to provide programming that caters to the social, spiritual, mental, emotional, educational and economic needs to build trust in the younger generation.
"This type of programme is unique, as it brings together a number of conventional agreements made by international organisations to which The Bahamas has committed its support," said Mr. Maynard.
"The business development component is consistent with the business and entrepreneurship capacity building agenda of the Organisation of American States (OAS) and it is also in keeping with our national development agenda as it relates to small business development capital granted through the government's self starters programme in my ministry."
The United Nations Educational, Scientific, and Cultural Organisation (UNESCO) supported the initiative to generate wealth through heritage tourism. Plans to develop more programmes for other traditional and historic communities are well underway.
"I take this opportunity to underscore the commitment of the Government of The Bahamas to continue working with the CARICOM Secretariat to replicate these efforts in other volatile communities throughout New Providence and the Family of Islands," said Mr. Maynard.
Senator Jacinta Higgs also attended the ceremony and gave brief remarks commending the youths for their initiative to confront crime with a business solution to create jobs in the community.