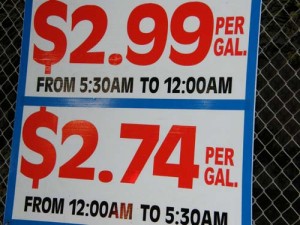 Gas prices in the beginning of December, 3 months after it had dropped below $40 dollars per barrel on the world market. The Government is capitalizing on the poor, and rubbing the Bahamian people with the high gas prices.
Nassau, Bahamas: When residents woke this morning and headed to the gas stations in the country, they saw an increase at the pumps. Gas has now risen to $3.23 per gallon at Esso stations here in the country.
The price increase is driven by GREED and CORRUPTION and the govermnment according to a gas dealer is part of the robbery scheme on taxpayers. Bahamas Press asked the question in October 2008, how is it gas prices on the world market could have dropped from $140 per barrel in June to under $60 by September 4th 2008, yet prices in The Bahamas remained the same for over two months before a gradual decline.
When prices in the United States had dipped to $1.60 per gallon, because of the low price of oil on the world market around $40 per barrel, here in The Bahamas it stood over $3.76, and not until December came to $2.99 per gal., which was still high!
How come it took from September 4th, when prices dropped, almost 3 months into December to feel the drop in gas prices, but the second it rose on the world market, THIS MONTH JANUARY, THE PRICE IS INCREASED IMMEDIATELY? WHERE IS THE WUTLES MEDIA QUESTION TO 'DA LACKEY' MINISTER OF FINANCE ON THIS?
Bahamas Press said last year, the government is RAPPING its own citizens, and again WHERE IS THE VOICE FOR THE BAHAMIAN TAX PAYER? WHO IS SPEAKING FOR US LOCAL CONSUMERS?
This also means not only some people lights will be CUT OFF AGAIN BY BEC, but the prices for the surcharge is going up again!
Here we GO again, BOY,  WE NEED CHANGE IN THIS BAHAMAS!