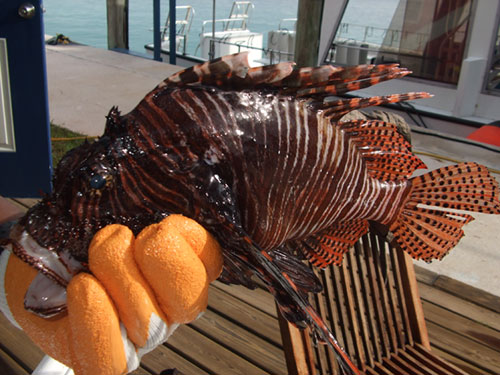 NASSAU, The Bahamas – The fisheries sector is 'crucial' — underpinning food security, nutritional requirements and livelihoods of many African, Caribbean, and Pacific (ACP) countries, particularly Small Island Developing States. Secretary General of the ACP Group of Countries Dr. Patrick Gomes highlighted this fact at the 5th ACP Ministers in Charge of Fishing and Aquaculture meeting at Melia Nassau Beach resort, September 18-22, 2017.
Dr. Gomes pointed out: "Furthermore, it is useful to note that fish and fishery products continue to be one of the most-traded food commodities globally. Indeed, the participation of ACP countries in the global seafood trade has increased substantially."
As an illustration, he said as much as US$5.3 billion worth of ACP fish exports from at least 65 ACP countries entered the international market in 2014, with most of this for the market of the European Union (EU).
"It is also good to bear in mind that while aquaculture development is taking off, the capture fisheries sector is confronted with serious challenge," he said. "Data on economic loss is very disturbing. For instance, one third of the assessed fisheries globally are overfished and according to World Bank estimates, the sum of net benefits lost, due to overfishing, is at least $84.6 billion, including $10.4 billion per year from Africa."
Additionally, he said that in West Africa alone, more than $1 billion is lost each year due to illegal, unreported and unregulated (IUU) fishing; while in the Western and Central Pacific Ocean, IUU claims at least $470 million annually.
"Further, the actual lost revenue to Pacific Island countries is estimated at $140 million annually. These concerns together with other unsustainable practices such as pollution, habitat destruction, climate variability and technical market barriers, rigidly restrain many developing countries in their efforts for sustainable fisheries management and development."
He said that it was with these challenges in mind that the meetings take place as they help countries to better manage their fishing sectors. He said that the meetings provide a platform for dynamic policy dialogue to catalyse actions that would advance sustainable development of fisheries and aquaculture, exchange information and share lessons learnt by public and private sector agencies, while also providing an opportunity for bilateral networking to seek out financial resources for the sustainable development of fisheries and aquaculture.
"We seek to deepen our cooperation and identify areas and strategies to sustain and expand partnerships for the benefit of ACP states and by implication, all developing countries. Also and most important, is to share experiences and lessons learnt at national, regional and international levels," he said.