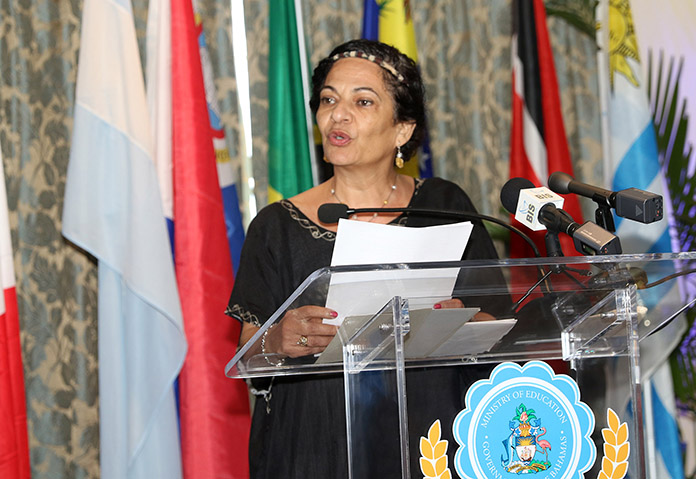 NASSAU, The Bahamas – Lidia Brito, Director of the UNESCO Regional Office for Science in Latin America and the Caribbean, advised water experts that sustainable water management and use are essential to ending poverty and hunger, improving health and well-being, protecting ecosystems, and ensuring access to renewable energy and called on them to support their countries in the quest to achieve these goals.
The Director addressed the 12th United Nations Educational, Scientific and Cultural Organization (UNESCO) International Hydrological Programme (IHP) and Meeting of National Committees and Focal Points taking place at the British Colonial Hilton.
The objective of the Meeting is to agree on resolutions for implementation of the International Hydrological Programme in Latin America and the Caribbean (LAC) in the framework of the UN Sustainable Development Goals (SDGs), and to discuss ways to achieve water security for Small Island Developing States.
Over 60 international delegates representing the Caribbean, South and Central America are attending the Meeting, taking place in Nassau, The Bahamas.
"Your involvement is even more critical as the achievement of the SDGs will depend on researchers and policymakers, practitioners and stakeholders having access to and being able to share pertinent and accurate information and knowledge to support their societies in the path for sustainable development.
"That is why it is so important that we gather here, in this beautiful city of Nassau, for our 12th meeting of IHP National Committees and Focal Points of Latin America and the Caribbean," said the Director.
According to Ms. Brito, the United Nations 2030 Agenda for Sustainable Development and its 17 SDGs set forth a new framework for development cooperation over the next 15 years. This agenda, she said, aims to ensure prosperity and well-being for all, while protecting the planet and strengthening the foundations for peace.
Furthermore, the Director remarked that the SDGs represent the most "universal", "ambitious" and "comprehensive" agenda ever seen.
She said the 2030 agenda highlights the vital importance of human capacities, skills and knowledge to adapt and respond to the challenges and opportunities of the present and the future, many of which are still unknown.
"The 2030 Agenda is above all about shifting the world on to a sustainable and resilient path, reflecting a changing world and a new appreciation for the growing complexity and interconnectedness of development challenges reaching beyond borders, which need to be addressed in an integrated, coordinated and coherent manner.
"UNESCO is approaching the implementation of the 2030 Agenda in an integrated manner across all its areas of competence (education, natural sciences, social and human sciences, culture, communication and information), capitalizing on its multidisciplinary expertise and inter-sectoral mandate.
"Critically for UNESCO, the 2030 Agenda recognizes that "sustainable development cannot be achieved without peace and security" and commits to intercultural understanding, mutual respect, and "an ethic of global citizenship and shared responsibility."
The Director expressed profound gratitude to the Government of The Bahamas, for hosting the event.