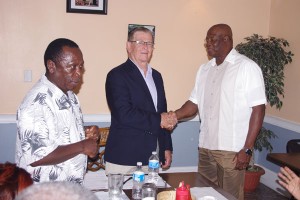 Exuma, Bahamas – Bahamas Agricultural and Industrial Corporation (BAIC) has given Exuma farmers use of ploughing equipment as they prepare for their winter vegetable season.
"We will do whatever we can to help you succeed in increasing food production which could only be a good thing for our nation," BAIC executive chairman Edison M. Key told them.
Mr. Key and his administrative team visited Exuma last weekend to inspect land preparation.
BAIC's North Andros extension officer Ayrett Lightbourn was visiting for a week to give farmers technical assistance and help set up their new drip irrigation systems.
Mr. Key and his team also met with executive chef of Sandals at Emerald Bay, Basil Dean, to discuss further linkages between that resort and local farmers.
Exuma's share of fruit trees and banana and plantain suckers distributed to farmers throughout the islands by BAIC has been received.
Exuma Farmers Association president, former Deputy Commissioner of Police, John Rolle, said Exuma is "on the verge of being self sufficient again."
"There has been a resurgence in farming in Exuma thanks to the assistance we have been receiving from BAIC.
"The tractor they sent has been working from the time it reached here. That in itself has renewed interest in farming. We are thankful to BAIC."
Exuma was known as the onion capital of The Bahamas. Farmers are aiming for that title again. This year they are adding zucchini and squash to their winter crop menu which include tomatoes, peppers and cabbages.
"Exuma is on the move," said Mr. Rolle. "As an association, we are going to assist the farmers as best we can through our farm stores where seeds, fertilizer, chemicals and other farm items can be obtained."
There is no government packing house facility in Exuma. The Association is reaching out to food wholesalers in New Providence.
Exuma domestic investment manager Everette Hart noted that all of BAIC's services are free.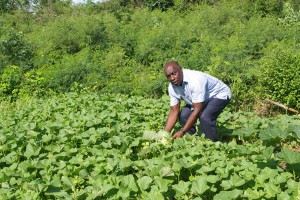 "We tell farmers to come down and pick up, and in some cases we deliver," he said. "Up to this point, it is from BAIC only that we got something. The farmers are very grateful.
"We make sure that of whatever BAIC sends over, is distributed not only to members of the Association but also to non-members. We make sure that everybody gets something."
BAIC chairman, Mr. Key, looked forward to providing Exuma farmers with additional equipment.
"Through sustainable agriculture, our islands can maintain themselves," he said. "We don't have to keep going to Nassau for everything.
"We have grocery stores; we have hotels; and we have thousands of tourists coming in; all of which depend on food. And therein lie profitable opportunities for local producers. We want to help them set up so they can supply the market."