McAlpine standing strong with his FNM Party!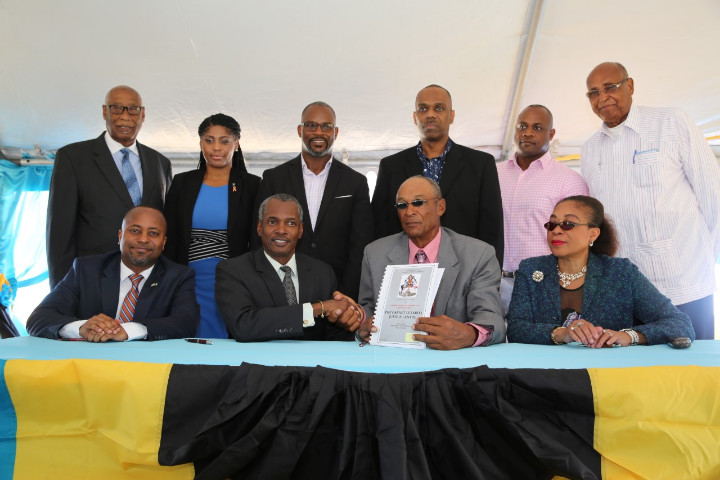 FREEPORT, Grand Bahama — The courthouse in Grand Bahama is set to get a major, much anticipated facelift, thanks to the Government of The Bahamas and the Ministry of Public Works.
According to Minister of Public Works, the Hon. Desmond Bannister, just recently Cabinet gave approval to the issuance of a contract to Noula Investments Limited, operated by Maxwell Henry Quant to carry out extensive repairs and renovations to the Garnet Levarity Justice Center buildings in the amount of $1,994,154 (VAT inclusive).
"The Justice Center in Grand Bahama is named after a distinguished Bahamian patriot and if we appreciate the sacrifices that Garnet Levarity made for his country, then we must ensure that an edifice that bears his name must stand as a shining example of the pride and dignity of the Bahamian people," said Minister Bannister.
An official contract signing to carry out renovation works on the courthouse was held on the grounds of the Justice Center on Monday, November 26, 2018.
During his address Minister Bannister noted that it was in April of this year when he, along with a delegation of technical officers from the Ministry of Public Works visited Grand Bahama and made a stop at the Garnet Levarity Justice Centre.
"To my dismay, I was able to witness firsthand the deplorable conditions that Judges, Magistrates, Court personnel and the general public are faced with every day, as they dispense and seek justice in our courts," said Minister Bannister.
"We promised you then that the condition of our courts would be restored to its appropriate dignified, imposing and stately presence in this community. Technical officers of the Ministry of Public Works collaborated with stakeholders to develop a scope of works and in July, contractors were invited to submit tenders."
The Contract was awarded to Noula Investments Limited.
The scope of repairs and renovations will include exterior repairs and painting, major interior repairs and painting, and mechanical, electrical and plumbing works. More specifically, some of the works will include:
Replacement of the flat room system and minor repairs to existing metal standing seam roof.
Mitigation against increasing hurricane activities and the severity of damage incurred; all windows and exterior glass doors will be replaced with hurricane impact windows and doors.
The removal of termite infested wooden column claddings to be replaced with high density polyurethane foam claddings.
Eradication of bee colonies throughout buildings.
Making the building handicap accessible.
Removal of carpeting to be replaced with porcelain tiles or hardwood engineering flooring.
Reconstruction and renovation of all office spaces.
Upgrade to staff breaks areas.
Upgrade to prisoner's holding cells.
Servicing and replacement of A/C units.
Servicing of firm alarm systems
"A provisional sum has been included in the contract so that during the renovations project, there will be extensive mold removal and remediation to the building," added Minister Bannister.
"The construction period will be nine months, during which time we will all experience some inconveniences; however, it is anticipated that the end product is one that we will all be proud of.
"All of us have a duty to ensure that the courts are able to carry out their mandate, since the administration of justice is of critical concern for every person."
Just before concluding his remarks, Minister Bannister hinted that on his next trip to Grand Bahama, he is expected to bring good news about possible renovations for the island's main post office building.