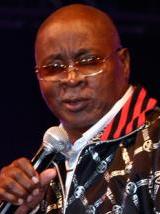 Top Trinidadian Calypsonian is gravely ill
BREAKING NEWS >>> The Caribbean's Greatest Calypsonian The Mighty Sparrow is now in a New York hospital in a coma. Bp is standing by outside the New York Hospital and being a great lover of Calypso music we call on all Caribbean music lovers to pray for the Mighty Sparrow at this time.
According to his son, the cultural icon "is resting comfortably, and he's alive and well. The family wishes to thank the public for their prayers".
Sparrow was honoured with a lifetime achievement award on August 30, 2013, but he was unable to collect the award in person; his son Richard Francisco accepted the award on his behalf.
Consul General Rudrawatee Nan Ramgoolam asked that Trinidad nationals and other well wishers pray for his recovery and respect the privacy of the family at this time.
"This is an exceedingly difficult time for Sparrow's family. Let us focus our energies on praying for both him and his family and allow the family to continue to take care of their loved one. Should there be any further developments, Richard Francisco has promised to inform the consulate general in New York and we in turn will issue an official release to reflect same," she said.