Terror Strikes the US Capital – Thirteen dead including the shooter in Washington DC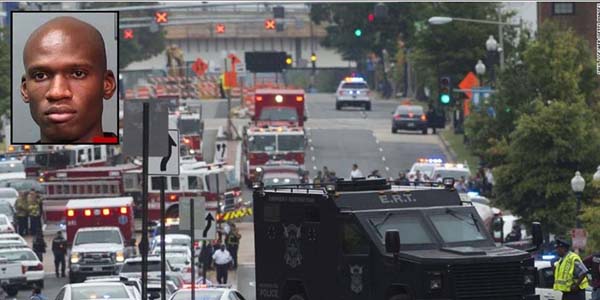 Washington DC — Bahamas Press agents in Washington are confirming that the "bald headed black man" police were looking for today, the killer in today's shooting is among the 13 dead.
"We can confirm that the deceased shooter from this morning has been identified as 34-year-old Aaron Alexis," said Valerie Parlave, assistant director in charge of the FBI Washington DC field office.
What could possibly motivate a man (who we learned has been in trouble with the law in 2010) to commit such a horrific act against his Navy mates? That's right!
Aaron Alexis is a former sailor! He served in the US Navy from May 2007 to January 2011, according to Rear Admiral John Kirby, the Navy's chief of information.
This cold blooded killer, was a Navy aviation electrician's mate 3rd class. From February 1 2008 until his detachment from the Navy on January 31 2011, he was assigned to Fleet Logistics Support Squadron (VR) 46, in Fort Worth, Texas.
What is this today when the people who supposed to protect need protection from their within their own ranks? Thank you Jesus this is not the case with the Defense Force!
Obama already say his say and called it a "cowardly act". More in a later report.