Nassau police arrest armed robbery suspects after chase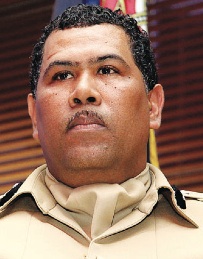 Nassau, Bahamas – As a result of excellent police work, a 46-year old male and a 19-year old male are in police custody for questioning reference to armed robbery after leading police on a high-speed chase on Monday.
According to police reports, shortly after 10:00am a male and a female victim were in the parking lot of Scotia Bank located on West Bay Street, when a man armed with a hand gun approached them and robbed them of a deposit bag containing an undisclosed amount of cash. The gunman then sped off in a white Honda vehicle driven by another man.
Police on mobile patrol in the area spotted the Honda vehicle with the two suspects leaving the parking lot of the bank and attempted to stop the vehicle. The suspects refused to stop initiating a police chase in the western area of New Providence. Police pursued the suspects until they abandoned the vehicle in the Pride Estates area, where they fled on foot.
After a brief foot pursuit, the suspects were taken into custody. A deposit bag containing an undisclosed amount of cash was also recovered.Police investigations are ongoing.
A second boat accident on Sunday
On Sunday 19th August, 2012 sometime around 12:55am Police Control Room received information that a boat had crashed onto rocks on North Star Point. Police and EMS personnel responded.
Investigations revealed that a white and blue color 23" boat with two 150 horse power Yamaha engines attached with three male occupants had crashed on to rocks at North Star Point causing damage to the vessel.
Two male occupants of the vessel received injuries and were transported to the Rand Memorial Hospital where they received treatment and are at present still detained. Police are continuing investigations into this matter.
Meanwhile, police are investigating a shooting incident that has left a 26-year male in critical condition.
According to police reports, shortly before 1:00am on Monday 20th August 2012 a man was standing outside of his Ramsey Street residence located off Carmichael Road, when he was allegedly approached by the victim armed with a cutlass. As a result the victim was shot to the upper body.
The victim was taken to hospital by EMS personnel and is detained in critical condition. Police are actively investigating this matter.