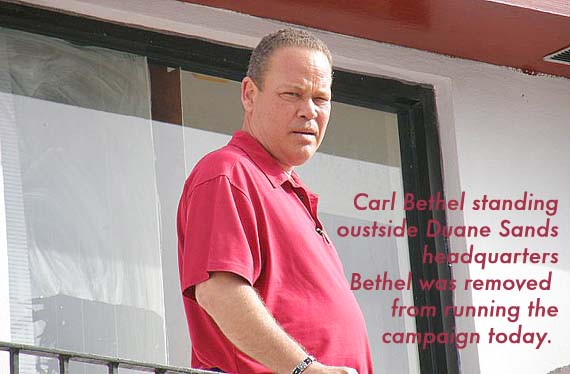 Nassau, Bahamas — Breaking news now coming into Bahamas Press confirm Hubert Ingraham following a bustup with chairman of the FNM has taken over the Elizabeth campaign.
Bahamas Press has learned Ingraham in a heated exchange with Carl Bethel told him to get out of the room following falling poll numbers in the constituency. BP's deep throat in the room said Ingraham could be heard cussing to the top of his voice and screaming at Bethel as he fired him from running the campaign.
The heated exchange came after a rocking bombshell by BP confirming FNM candidate Duane Sands has legal status in the United States. Sands in response also confirmed the status of his child as an American.
Information coming into BP confirm Sands was issued a green card, which offers him all the rights and privileges as an American. Further information also question his eligibility as a candidate as he had made requests for his status in the US.
Bahamas Press has discovered Sands as a Green Card holder must declare information annually to the US government.
BP now asks,  is Duane Sands compliant with his US tax filing obligations and obligation to pay US income taxes because of the green card?" Sands is a candidate who is not telling the Bahamian people all and we know about his American status. Bahamas Press awaits the answer and shall fill in the blanks where necessary..Stay tuned.
Meanwhile BP sources on the ground confirms desperation is setting in the FNM campaign and reports are they are now aborting their mission to fly in voters. BP don't believe that for one minute. Plans we also understand are now underway by FNM Cabinet Ministers [Tommy and Dion] to offer voters plane tickets to fly out of the country on Monday before the bye-election and not vote. WHAT DESPERATION! BP is monitoring the situation.