Bahamas Press Sunday Special…
<<< Mr. Basil Sands father of Duane Sands once put on the stand of the Commission of Inquiry ordered by a vicious Hubert Ingraham as he attempted to sully the Basil progressive record at Bahamasair.
Nassau, Bahamas — If the Free National Movement examined its candidate more closely they would know that his status as a noted heart surgeon would not be enough to take him across the finish line to win the Elizabeth by-election. And yes, Hubert Ingraham masterminded the whole deal; a plot to take out Perry Christie. However, plans will fail come this Tuesday and will backfire on him.
You see Ingraham is an interesting character and a flash back to his record will tell you just what kind a man Duane Sands is dealing with.
With open arms and dancing with great anticipation of victory Hubert Ingraham was welcomed into the FNM. Those hard workers of freedom, the Cecilites in particular, laboured and suffered under Pindling's rule for two decades in opposition politics. They could barely smell the scent of power before Ingraham gutted them out of their own Party.
Flash forward and now take a look at Malcolm Adderley, the man who according to Ingraham "Cash In" on his Lizzy seat. Ingraham then turned on him almost cussing him out as the worst MP in the history of the Bahamas. Ingraham could be heard all across national radio telling the public what a WUTLESS representative Adderley was. Adderley is not the latest victim of Ingraham, Duane Sands is.
If you ask us we will tell you Sands will become Ingraham's latest political hack and here's why.
Your BP has scurried the pages of Bahamian history and in them we've found an extremely interesting story connecting Sands. The year was 1994 some 16 years ago. Ingraham you would remember decided the best way to wash the record of Pindling away as he dragged him into disdain and disgrace making him a national spectacle.
Ingraham brought in foreigners to preside over the public lynching of Pindling. You would remember Pindling was the one who brought Ingraham into politics. Ingraham ordered a Commission of Inquiry and decided to disgrace his mentor in front of the public. In that lineup of men at the Commission was a man named, Basil Sands, you guessed it the father of Dr. Duane Sands.
The same way in which Pindling was viciously attacked so was Basil. Readers would remember Basil via his accounting firm Parnell were the external auditors for Bahamasair one of the Corporations under examination by the Commission. Who remembers how Ingraham caused those prosecutors to malign the name Basil as they poked him as something opposite to being decent and graceful? To this day, some Bahamians since that trial still see Basil as something he was not.
This page in our sordid past presents Ingraham's record and this forces BP to ask some serious questions. Why would Duane Sands drop his doctor's kit and run behind Papa? Why would he leave his medical practise to follow someone who brutally attacked and attempted to destroy his own father? Does this sounds like someone as having a "Steady Head?
Hubert Ingraham could drag your own daddy through the streets of the Bahamas; taking away all his livelihood, stripping him ball naked in the streets of this country. Yet still as son of that same father, Duane Sands has the gumption to  join the Robert Mugabe of The Bahamas on the same stage. Hmmmmmm! It is no wonder Basil Sands and his wife are both invisible in their son's campaign.
Perhaps Duane was too young to know what Hubert Ingraham did to his father. Perhaps his days working in the US at the John Hopkins Medical Centre kept him out of the know. Perhaps he is innocent and doesn't know any better. But we will add here no Prophet, Priest or KING will disrespect our 'PAH' and not receive our revenge.
Duane Sands should revenge the mistrust delivered to his father by Ingraham and show that man who likens himself as PAPA what a free thinker he is. If you can't fight for your own daddy how in the hell you ga find the balls fight for Lizzy?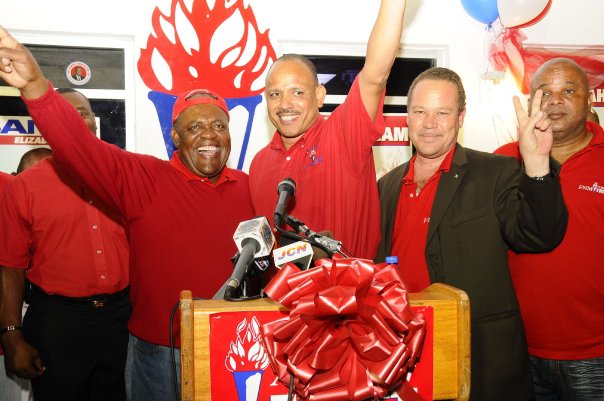 From black  hat to back hat we don't know what kinda Obeah Hubert using these days but whatever kind he using today it sure worked on Duane Sands. A photos of Hubert Ingraham, Duane Sands and Carl Bethel. [Photo courtesy of www.freenationalmovement.cog]