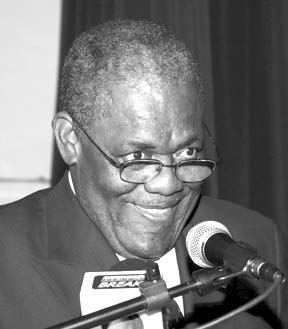 Hubert Ingraham/ Prime Minister of The Bahamas
Nassau, The Bahamas: Bahamians around The Islands of The Bahamas are wondering and hoping things will quickly change for the better in this country. Gas prices on the Family Islands are still high and food prices have reached unbearable levels. A 36oz bottle of ketchup in City Meat Food Store in Cable Beach is beyond seven dollars. It is so bad that one cashier told Bahamas Press, "I cannot shop here anymore."
The state of the Bahamian economy was a discussion between some ivy leaguers over the weekend. In that discussion one could not forget a comment made by, a now unemployed former student of Princeton University, who simply said, "Hubert Ingraham started all this."

Bahamas Press became locked into that statement with deep thought, and could not help but conclude, that the gentleman was right. Hubert Ingraham must take the blame for jumpstarting the economic collapse now seen across The Bahamas.
It was no one but Ingraham who began the stop, cancel and review policy when his administration took office on May 3nd, 2007. Hubert Ingraham first cancelled over 90 million dollars in capital developments. Those would have been school, roads, government building, landscape works, putting out of work scores of PLP and FNM construction workers, masons, plumbers, painters, electricians and carpenters just by the stroke of his pen.

And if that was not enough for Hubert Ingraham's mass destruction programme on the Bahamian economy, he then looked to firing over 1,200 workers in the public service. Now this was the first tragic move that directly attacked struggling mothers and fathers who were the single breadwinners of their homes. Who remembers how that assault was so "ingenious" that the Ingraham government also let go a crippled, single mother with two children?
And if the Ingraham government's model of firing government workers was not enough, the pattern and trends of Hubert Ingraham's massacre on the working poor in the country continued. It was then Bacardi leaving and workers fired. Morton Salt downsized and workers fired. Shipping companies started firing workers with no compensation. ColinaImperial began firing and Baha Mar continued dismissing workers. Atlantis has announced that they will be closing its towers and yes like everywhere else, they too have shed staff with greater fears that, hundreds of others will be dismissed in the coming months.
Sighting that was not enough, Hubert Ingraham decided to take his cancel, stop, review policy directly to the international investor. And with the authority given to him on May 2, he stopped every investment Christie slated for The Bahamas – ALL 20 BILLION DOLLARS WORTH! From Ginn in the north, to Baha Mar in the central to the Rum Cay Development on Rum Cay to the I-Group Development in MICHAL, Hubert stopped them all! His stalling and reviewing of agreements put them all in jeopardy. All now with little capital sources and declined land sales, the projects cannot continue. Today all those investments are moving at a snail's pace many not knowing how to proceed.
But here is the kicker. Hubert still believed stopping the tax exemption for new homebuyers was not enough and so he decided that taxi drivers also will not have exemption on their new vehicles imported in the country. Hubert decided against construction on a new Straw Market and if that was not enough to hurt Bahamians, young and old, he levied the LARGEST TAX INCREASE ON THE BAHAMIAN PEOPLE, RAISING TAXES ON OVER 160,000 items in his 2008/9 Budget. And this began a further downward spiral of the Bahamian economy, where companies like Price Busters closed 13 of its 14 stores, thanks to Hubert Ingraham.
And now Hubert Ingraham has lifted his wip over the people once again, and this time, the WUTLESS MEDIA lay silent. Quiet and one believes dead, on all this – suggesting not a word to their few readers of this country. But they are not alone in this, so is Perry Christie and his Progressive Liberal Party silent, being found somewhere deep in the pocket of a Hubert Ingraham, leaving union leaders like BCPOU's President Robert Farquarson and others rallying the cause of the people of The Bahamas.
And so whilst Hubert Ingraham looks to sell profitable assets like BTC and there again threaten to fire hundred of workers in the process, it is likely some will put a stop to this OBEAH WORKING MONSTER named HUBERT INAGRHAM who has stolen the joys of progress and plenty from a once successful country. Too many Bahamians are having nightmares and wondering where is the next meal or income coming from. Too many Bahamians are waking up day after day deciding whether to buy milk or gas. Too many Bahamians are waking up hollering and screaming in the middle of the night and when awaken, hopes to believing their sudden misfortunes is a bad dream. ALL TO FIND OUT YES IT IS TRUE THEY ARE UNEMPLOYED AND HUBERT INGRAHAM IS STILL PRIME MINISTER.
Bahamians cannot take it anymore, and yes the now unemployed Princeton graduate was right when he said, "Hubert Ingraham started all this!"