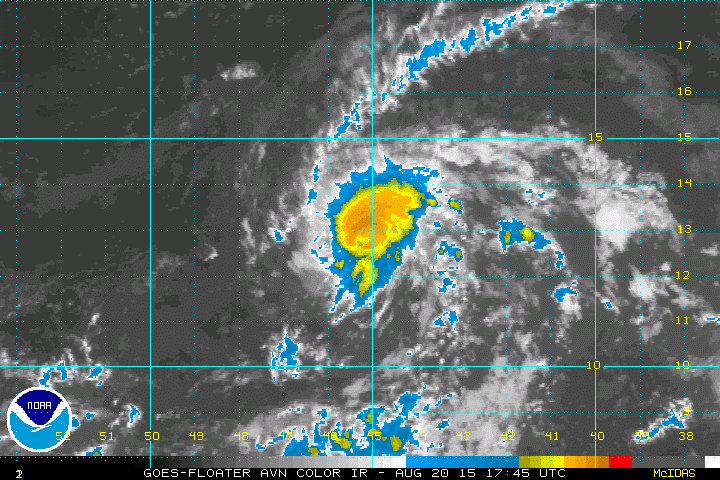 AccuWeather Global Weather Center – August 20, 2015 – AccuWeather reports Danny became the first hurricane of the 2015 Atlantic season this week and is on track to bring drenching rain to part of the northern Caribbean islands next week.
Danny follows Ana, Bill and Claudette from earlier this season. None of the first three storms reached hurricane status.
The system became a tropical depression on Tuesday morning, a tropical storm on Tuesday afternoon then a hurricane during Thursday morning, local time. Danny will continue to move through generally favorable atmospheric conditions into this weekend, before reaching the Caribbean.
When sustained winds around the center of circulation reach 39 mph (63 kph), a tropical depression is upgraded to a tropical storm. For a system to become a hurricane, sustained winds must reach 74 mph (119 kph).
The system is moving west-northwestward over the south-central Atlantic Ocean at 10-15 mph (15-25 kph) this week.
As of Tuesday midday, Danny is currently about 1,100 miles east of Leeward islands and 900 miles north of the equator.
According to AccuWeather Hurricane Expert Dan Kottlowski, fluctuations in strength are likely through the time it reaches the Leeward Islands by Monday.
"The small, compact nature of Danny makes it a challenging storm to forecast as it can ramp up and weaken in a matter of hours," Kottlowski said.
Danny developed a small eye early Thursday morning, which was a sign it was about to go through a strengthening phase.
Dry air from the north will occasionally wrap into the storm causing it to weaken.
"Despite the issues with dry air, the system will remain in an overall favorable area for development into the weekend with warm waters and weak wind shear," Kottlowski said.
Wind shear is when strong winds near the surface and aloft blow strongly from different directions.
Danny is forecast to continue to move in a general west-northwest direction through next week, which will take the system across the northern islands of the Caribbean.
Occasionally, Danny will jog more to the northwest and other times will push more to the west. Danny is being guided along by the oval-shaped circulation of high pressure over the central Atlantic.
"We expect Danny to weaken near and beyond the Leewards early next week as it encounters strong wind shear," Kottlowski said. "The system is likely to get shredded by the mountains of Puerto Rico and Hispaniola, along with ongoing wind shear later next week."
While Danny will bring the potential for flash flooding, rough seas and surf as well as travel disruptions to the northeastern part of the Caribbean, it will also bring beneficial rain.
"A weakened Danny may be just what the doctor ordered for drought-stricken areas from the Leewards to Puerto Rico and Hispaniola with rounds of drenching rain," Kottlowski said.
There are two other areas of concern in the Atlantic.
A significant area of disturbed weather is emerging off Africa.
"Steering winds favor a more northwest track with this system when compared to the existing tropical depression and potential impacts to land will likely be reduced, should it develop this weekend into next week," Duffey said.
A track into the central Atlantic well away from land areas is most likely with the system near Africa.
Another system may develop near Bermuda over the next several days.
The feature near Bermuda may slowly form beneath a storm in the upper atmosphere. While a threat to the United States appears unlikely at this point, it could wander close to the Canada shoreline early next week.
During El Nino, the number of named tropical systems in the Atlantic basin tends to be lower than average.
AccuWeather is forecasting eight tropical storms, four hurricanes and one major hurricane for the 2015 season with two to three landfalls in the United States. Ana and Bill made landfall in the U.S. during May and June respectively.