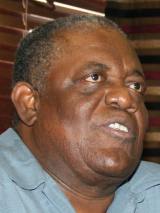 The Jungaliss FNM government came out attempting to back peddle a Cabinet decision following a complete meltdown in the Business Licensing Unit today, as scores of person made their way to meet the Government's deadline to license a businesses.
Business Owners were cussing mad and many who once supported the outgoing FNM government went to the Parliamentary Registration Office to affirm their status whenever Papa seeks to call a General Election.
The FNM after getting word that the notice they publish in the Gazette was backfiring on them; quickly ran to the WUTLESS MEDIA tonight to state that news of the notice THEY PUBLISHED was absolutely an untruth, and that the $5,000 penalty applied only to persons dragged before the courts. THEY STILL SLAPPIING THE FEE ON SOMEONE!
Bahamas Press publishes the notice to prove what a DAMN LIAR the FNM and its spokesperson Zhivargo Laing is. How could the notice be untrue, when they published it; THREATING business owners on radio and in print days before the business registration deadline? Was it another scare tactic by this FOREIGN NATIONAL MOVEMENT?
BP can confirm the notice was authorized by the Cabinet and published by the Ministry of Finance's Financial Secretary. Today was April Fools Day and most certainly the joke was not on business owners, but is now on the FNM! 
IF YOU FAIL TO RENEW FOR YOUR BUSINESS LISCENCE IN TIME THE FNM GOVERNMENT IS GOING TO SLAP A $5,000 late fee on you. Now that's what we call MURDERING THE BUSINESSES IN THE BAHAMAS! THE FOREIGN NATIONAL MOVEMENT DON'T GIVE A DAMN ABOUT SMALL BUSINESSES…DEY GATS TA GO!