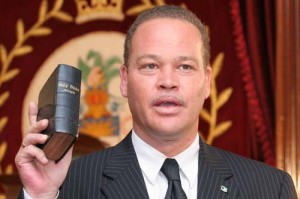 Freeport, GB – A BP NEWS ALERT: Breaking news coming from sources deep in the apparatchik of the Free National Movement suggest, Carl Wilshire Bethel, has been unceremoniously stripped of his Convention Elected Powers as Chairman of the FNM.
Bethel is seen here holding the Holy Bible when he was sworn-in as the Minister for Education in the Ingraham government back in 2007. After scandals of alleged secret contracts and a plethora of student rape incident leading up to the Andre Birbal crimes Bethel was sacked from the Cabinet on live TV during the 2009 FNM Convention. He was later appointed Chairman of the Party after being nominated by Papa himself. We are told he is now being relieved from those duties, and here's what we know.
Sources in the position of power tell us, Bethel is just a figurehead these days serving himself coffee while Hubert Ingraham's "TRIED, TESTED AND TRUSTED MAN", Dwight Sawyer, preforms the day to day functions as the real Chairman of the FNM.
Insiders in the red machine also tell us, Bethel could now be looking and turning to the outside machine of the FNM and could find himself talking with former colleagues now refugees in the DNA.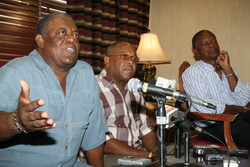 BP reported earlier today how FNM Trustee, Marsha Thompson, is now an official member of the Green Party even though she serves as a Director on the Nassau Fight Services Board as a government appointee.
Meanwhile, the campaign of the FNM has begun. BP is at this hour following Prime Minister Rt. Hubert Ingraham along with his beautiful wife Deloris. The couple landed on Grand Bahama this morning. The PM was greeted on the tarmac by senior members of his Cabinet, while Bethel was no where to be found.
Sources tell us candidates for the FNM are meeting in private conclave as elections are upon us. The PM will also meet up with the family of FNM general Ron Daville, who was mercilessly chopped almost to death by son Michael. Ron is the Deputy Director of BAIC.
The young Darville went on the chopping spree on Grand Bahama this week after smoking a dangerous dose of Purple Haze manufactured nearby his residence. He was fatally shot by police.
As we write, Bethel is no where to be found on the Grand Bahama trip. More to come on this BREAKING DEVELOPMENT!