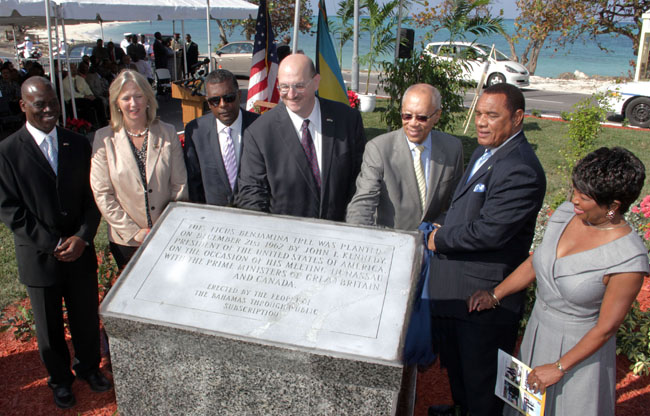 NASSAU, The Bahamas — Prime Minister the Rt. Hon. Perry Gladstone Christie said President John F. Kennedy's visit to The Bahamas in December 1962 held wider implications for Bahamian civil society at the time, particularly for the young intellectuals who called themselves the National Committee for Positive Action.
Prime Minister Christie was speaking at the December 21, 2012 commemoration ceremony on Blake Road and West Bay Street, to mark the 50th Anniversary of the visit of President Kennedy to The Bahamas as well as the signing of the Nassau Agreement .
"While the world was living in a state of transition from the order of the World Wars to a bipolar division of global hegemony, The Bahamas was undergoing its own internal political shift," he said.
"The General Election of 1962 was the first election under universal suffrage, and we celebrated the 50th anniversary of women's suffrage this past May. However, the victory of women's suffrage was dampened by the anachronistic system of suffrage based on property ownership and gerrymandering.
"The nascent Progressive Liberal Party had won the popular vote, but the United Bahamian Party, composed of the landed, white Bahamian elites, swept to a clear majority of 18 seats out of 33 in the House of Assembly."
The Prime Minister said that when President Kennedy emerged from one of the tense meetings with Macmillan, he noticed a group of young Bahamians with placards, peacefully occupying the space allotted to them by the Commissioner of Police.
President Kennedy walked over and asked them why were they  "demonstrating".
Prime Minister Christie explained that the National Committee for Positive Action was a group of young, progressively minded individuals who felt the electoral system under which they carried out the highest of their civic duties was not designed to benefit the larger society.
"They were demonstrating the inequality and inequity of the electoral system under which they had to abide as a British colony.  President Kennedy abandoned protocol and his security detail and spoke with them a while, and then invited five of them to lunch with him."
The Prime Minister said, "The political implications of such a gesture were great and transcended borders.  While the struggle for civil rights raged in the United States, President Kennedy had lunch with future black leaders of The Bahamas, including a young Sir Arthur Foulkes, our Governor-General.
"While the UBP and the elites of Bahamian society looked down upon them, one of the most powerful men, if not, the most powerful man in the world, sat down and shared a table and conversation with them."
Prime Minister Christie said it is said that following President Kennedy's planting of the tree on the corner, the President said he would return in five years to see how it had grown.
"Unfortunately, as history tells us, this was not to be.  But we mark this 50th anniversary of the visit of a fine man and a bold President, hoping that he has seen not only how his tree has grown, but how the relations between the United States and the United Kingdom have grown deeper and firmer through years of coordinated action, and how the relations between United States and The Bahamas have grown ever deeper since our independence, as we have asserted ourselves, often in step, regionally and internationally."