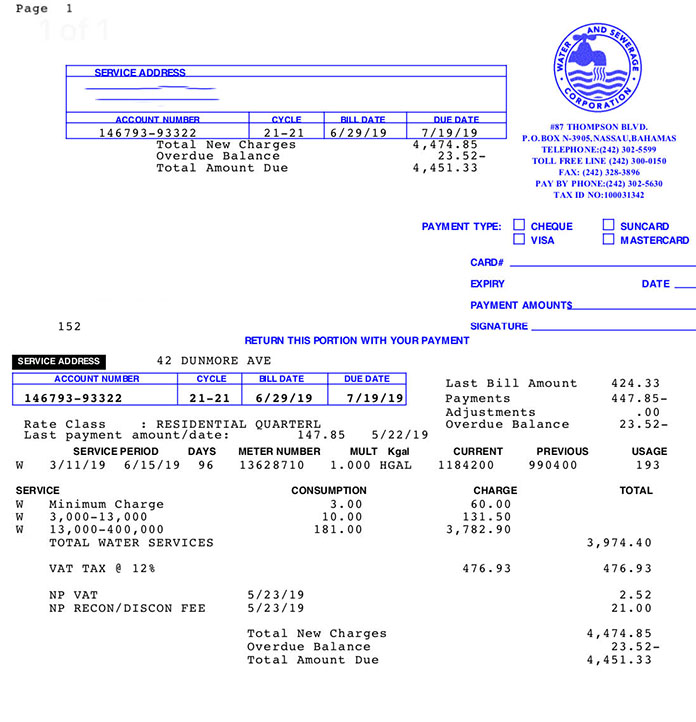 Dear Editor, 
I received a quarterly bill from the Water & Sewerage Corp.on the 29th of June, 2019 for $4,451.33 due to a leak at my place which I knew nothing about.  
Now my water bill is normally $400.00 per quarter, and now they present me with a bill for almost 11 times more than what I'm used to paying…and then they gon tell me that their new policy states that the consumer is responsible to pay half of the bill along with a plumbers report and if I don't present a plumbers report, then I'll have to pay all!  
So I have to find $2,225.66 to pay half of a bill for a water leak I knew nothing about before the 19th of July, 2019 or my water supply will be turned off!  Then I gat to turn round and find monies to pay a plumber to find and fix the leak… then submit a  plumbers report, and then they will tell me after viewing the report how much rebate they will give me on the balance of the bill if any at all!  
I think this is pure madness and the height of  robbery. How am I responsible to pay for an exorbitant water bill for a water leak I knew nothing about? That is so wrong, Sir!  I need some Justice cause I cannot afford this!  

Signed,
The Victim of WSC