MP is believed to have suffered a second attack when she slapped Fort Charlotte MP last week!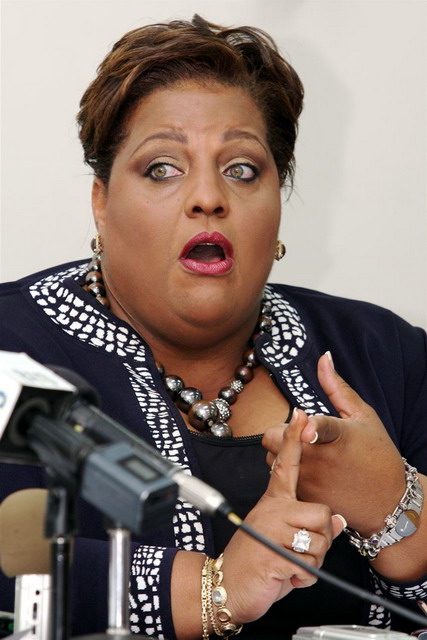 Butler-Turner may need serious Psychological help – and cannot take opposition politics pressure! MP attempted to run her car over Tennyson Wells in Long Island!

Nassau, Bahamas — The despicable action by the Member of Parliament for Long Island has forced Bahamas Press to dig deeper into her actions and what we have uncovered is indeed shocking.
We can report the bear slap and violent attack on Fort Charlotte MP Andre Rollins were not the actions of a normal human being, but were that of an MP suffering from Depression and Mental Illness.

Records shown to Bahamas Press from the medical records of Hon. Loretta Butler-Turner confirm the MP was admitted to Doctor's Hospital back in 1993 for treatment for depression as she suffered from a case of mental illness.
The records prove that there is a serious condition plaguing the Long Island MP, and perhaps after not being medicated last week, the violent actions resulted.
For weeks the MP had missed the Parliament and claimed she  had taken surgery as walking the stairways had become unbearable,  but friends close to the Long Island MP tell us the MP was under serious counseling sessions to fight her depression condition which has gotten worse since being elected into opposition.
Often the Long Island MP creates loud outbursts in the Parliament making no sense at times and leaving everyone including FNMs in the gallery in shock at her statements.
We believe the House Speaker should look carefully and seriously into these developments before the MP walk into the Parliament in a violent rage and someone really gets hurt. Mental illness often goes undetected and is believed to be the main cause for many of the violent incidents playing out in the country now.
Article 48 1 (e) of the Constitution clearly spell out the point what disqualifies a MP from sitting in the House. It reads a Parliamentarian :
(c) is disqualified for membership of the House of Assembly by any law enacted in pursuance of paragraph….
(e) is a person certified to be insane or otherwise adjudged to be of unsound mind under any law in force in The Bahamas;..
What does the Speaker know about Loretta Butler – Turner's medical condition? Should the Speaker make an inquiry of Doctor's Hospital?  Will anyone seek protection for the Members of the House before something serious occurs at the hands of the Long Island MP?
A word to the wise is sufficient.
We report yinner decide!