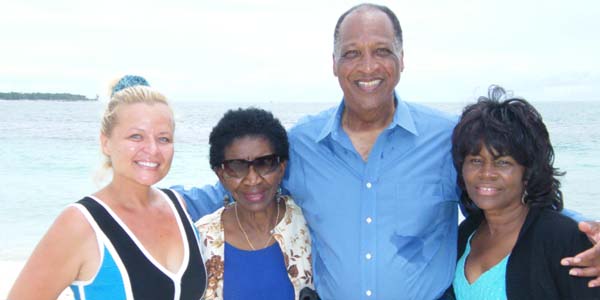 The 2013 Graduating Class of The Stapledon School for Special Needs Children was treated to a day of Fun, Games and  Motivation at Nygard Cay, home of fashion mogul, Peter J. Nygard, last week.
The (20) twenty students and their dedicated teachers were given a guided tour of the Mayan themed exotic property located in the exclusive gated community on the western tip of New Providence after a warm welcome provided by Bianca Nygard, daughter of the generous creator of fashionable women's clothing, whose love of all things Bahamian is shared by his children, as well.
Greeting the special guests on behalf of her father, Bianca Nygard conveyed his special message on the importance of good health and healthy eating habits to  the students before treating them to a sumptuous Brunch of fruit and vegetable based fare, all reflecting the commitment to healthy living established as a Nygard Cay Brand.
Providing deep Spiritual Motivation, the graduates were inspired by messages of hope and Biblically based values by : Evangelist (Senator) Ruby Ann Darling, Apostle Agnes Glinton and Carlos Mackey, CEO/Host of  ZNS TV's "SPORTS WORLD" , all long time friends of Peter Nygard.