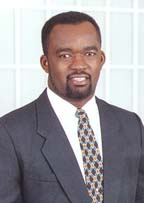 September 21, 2011 – A ground breaking meeting held between Senior Executives at City Market and the newly elected Executive Team of the Bahamas Commercial Stores Supermarket & Warehouse Workers Union (BCSS&WWU).
The meeting was held to discuss comments recently aired in the media. President of Bahamas Supermarkets Limited Mark Finlayson's concern was fueled by some members of staff demonstrating at the Company's Harbour Bay Store on Monday of this week. "What prompted their action," Finlayson said, "was a clear misunderstanding of their Union Agreement – something we met in place." Finlayson confirmed that part-time staff are working on a week-by-week schedule, which he said is being done in other companies including several resorts across the country. "September and October is a slow period and instead of terminating staff we made it possible for them to continue on. These staff members are not restricted from employment elsewhere as long as it does not represent a conflict of interest," he added. According to the BSL President, "Once the objective is achieved as far as our renovations are concerned we expect to absorb those transferred employees and return to a normal shift schedule."
Speaking on behalf of the BCSS&WWU newly elected President Warfield Bain said, "The meeting with Mr. Finlayson, his Executive Team and Counsel cleared the air on a number of matters including recent staff concerns." Bain said the Company has not breached the Industrial Agreement as regards the scheduling of employees and added that he and his officers are confident that the Management of the Company is working to ensure that the South Beach and Sea Grape Stores are reopened in the earliest possible time and normal scheduling of staff will resume thereafter. The Union Leader said, "Tensions are high and maybe they are heated because of all the other things that are going on also with other companies, but after we sat down with Mr. Finlayson, we assured him that the union will work with the company to save as many jobs as possible. We understand that these are hard times and City Market has been challenged for a number of years. In-fact Mr. Finlayson made it clear that he does not want to let anyone go." Mr. Bain stated, "I should also add that the Union is the sole bargaining agent for workers at City Market and we are not seeking redundancy nor do we think that under the Industrial Agreement severance pay is applicable for or on behalf of any employees in this group. We want to do whatever we can to save jobs."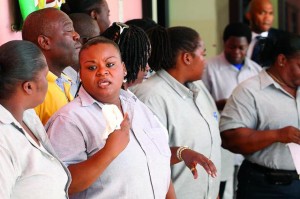 At the meeting BSL President Finlayson also informed the Union that 'full and frank' disclosure on the status of the Pension Fund prior to the takeover by Trans Island Traders and during the past nine months of ownership is forthcoming as Mr. John Bain is finalizing his forensic audit of the Pension Fund from November 2010 to the present (the entire course of Mr. Finlayson's tenure). Mr. Finlayson reiterated that "There will be full disclosure and the chips will fall where they may, my hands are clean."
City Markets recently closed its doors at its South Beach and Sea Grapes Stores here in New Providence for renovations and its Downtown Freeport and Eight Mile Rock Stores in Grand Bahama permanently. The Lucaya Store is the remaining City Market Store on Grand Bahama and plans are being drafted to convert the store to 24-Hour Shopping.